Overview
Cyclin-dependent kinases (CDKs) can be identified as protein kinases that require a separate cyclin subunit, which provides domains for enzymatic activity. CDKs play a major role in modulating transcription and controlling cell division. Based on these functions, the CDK can be classified into three cell-cycle-related subfamilies, such as CDK1, CDK4, and CDK5, and five transcriptional subfamilies, such as CDK7, CDK8, CDK9, CDK11, and CDK20. In addition, dysregulation of these protein kinases is associated with cancer initiation and progression. Therefore, inhibition of CDKs has emerged as a novel approach in cancer therapy. The therapeutic potential of CDK inhibitors is also being evaluated in diseases, such as diabetes, renal disorders, neurodegenerative conditions, and infectious diseases. The CDK inhibitors can be further classified into CDK1, CDK2, CDK4, CDK5, and CDK6 inhibitors. The primary function of these inhibitors is to block the proliferation of cells by blocking the G1 phase of cell cycle.
Verzenio (Eli Lilly and Company), Kisqali (Novartis AG), and Ibrance (Pfizer Inc.) are some of the approved CDK inhibitors.
Positive clinical trial results and strategic advancements are expected to drive the CDK inhibitors pipeline. Moreover, the issuance of patents helps in achieving different milestones in the form of grants and designations from regulatory bodies and institutes, including the United States Food and Drug Administration (USFDA), the European Medicines Agency (EMA), and the National Institutes of Health (NIH).
Pipeline Analysis
As of December 2019, there were 10+ pipeline and marketed products.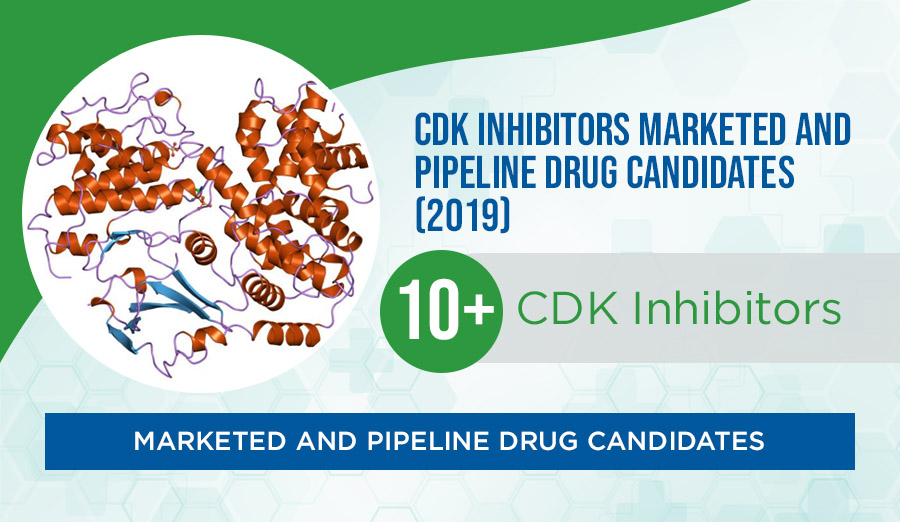 Competitive Landscape
Some of the key players developing CDK inhibitors for the treatment of various indications, include Eli Lilly and Company, Novartis AG, Pfizer Inc., MEI Pharma Inc., Cyclacel Pharmaceuticals Inc., Merck & Co., Tiziana Life Sciences, Onconova Therapeutics, Novartis International AG, and AstraZeneca plc.
Report Insights
Some highlights of the report "Cyclin-Dependent Kinase (CDK) Inhibitors – Pipeline Analysis 2019, Clinical Trials and Results, Patents, Designations, Collaborations, and Other Developments" have been mentioned below:
Detailed pipeline analysis of CDK inhibitors, and estimates and analyses of emerging therapies and their progress status in different phases of development
Comprehensive insights into pipeline products, with special focus on strategic developments of key players, information on drug licensing, designations, financing, and grants, technological advancements, patents, and upcoming conferences
Competitive analysis and extensive information on monotherapies, combination therapies, targets and mechanisms of action, and drug origin with relevance to CDK inhibitors
Insights on the unmet medical needs
Attribute analysis and expected launch timeline of late-stage clinical drugs
SWOT analysis
Detailed regulatory framework for drug approval in the U.S., Europe, and Japan
Key winning strategies of the companies involved in the development of CDK inhibitors, followed by Pharma Proff's views