Overview
Oral mucositis is the most common side effects of cancer treatment (chemotherapy and/or radiotherapy), and occurs usually in the people suffering from head and neck cancer. It causes damage to mucosal lining of mouth leading to the formation of ulcers and infections. The disease usually occurs within 5–10 days after a chemotherapy treatment in cancer patients. Problems occurring due to oral mucositis are severe pain in mouth, lack of nutrition due to inability to eat, and increased risk of infections due to open sores in oral cavity. The disease usually lasts for one week to six weeks or more.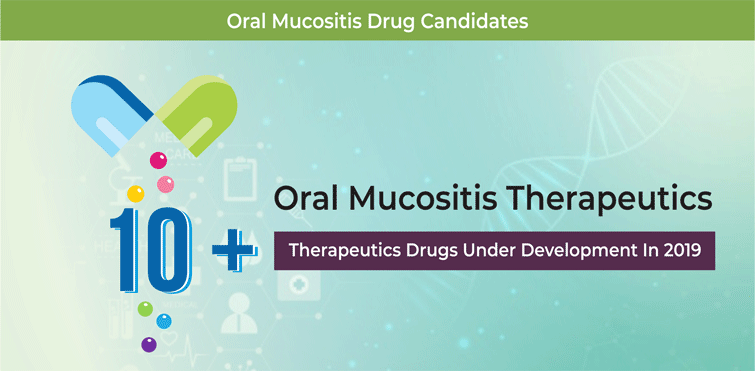 Symptoms associated with oral mucositis include open sores or bleeding, pain, redness or swelling, white patches, dry mouth, diarrhea, nausea, thicker saliva in the mouth, and difficulty in talking or swallowing. Oral mucositis can be diagnosed through various tests, including biopsy and fungal testing. Antiseptic mouth rinses, pain killer medicines, water-soluble lubricating agents, bland rinses, and mucosal coating agents are some of the products used for the treatment of oral mucositis. Medication such as Kepivance (Amgen Inc.), a human keratinocyte growth factor, is used to treat oral mucositis.
A number of drug manufacturers is actively involved in the development of oral mucositis therapeutics. For instance, Galera Therapeutics Inc. is developing GC4419, to treat patients with oral mucositis undergoing radiation and chemotherapy. The results from the phase Ib/IIa clinical trial of GC4419 showed that GC4419 was safe and delayed the onset of severe oral mucositis.
Positive clinical trial results and adoption of collaboration strategies are enhancing oral mucositis therapeutics pipeline. Moreover, the issuance of patents helps in achieving different milestones in the form of grants and designations from regulatory bodies and institutes, including the U.S. Food and Drug Administration (USFDA), the European Medicines Agency (EMA), and the National Institutes of Health (NIH), among others.
Pipeline Analysis
As of March 2019, the oral mucositis therapeutics pipeline comprised 10+ drugs in different stages of development.
Epidemiology Analysis
The report provides epidemiology forecast of oral mucositis for seven major markets, such as the U.S., Japan, and EU5 countries (the U.K., Germany, France, Italy, and Spain). It covers prevalent population and treated patient population for the period 2016–2028. According to an article published in Frontiers in Oncology 2017, radiation-induced oral mucositis (RIOM) occurs in up to 80% of head and neck cancer patients.
Competitive Landscape
Some of the key players involved in the development of oral mucositis therapeutics are Galera Therapeutics Inc., Amgen Inc., Daewoong Pharmaceutical Co. Ltd., Cellceutix Corporation, and Soligenix Inc.
Report Insights
Some highlights of the report "Oral Mucositis Therapeutics – Pipeline Analysis 2019, Clinical Trials and Results, Patents, Designations, Collaborations, and Other Developments" have been mentioned below:
Detailed pipeline analysis of therapeutic candidates that are being developed for the treatment of oral mucositis, and estimates and analyses of emerging therapies and their progress status in different phases of development
Comprehensive insights into pipeline products, with special focus on strategic developments of key players, information on drug licensing, designations, financing, and grants, technological advancements, patents, and upcoming conferences
Competitive analysis and extensive information on monotherapies, combination therapies, targets and mechanisms of action, and drug origin with relevance to oral mucositis
Epidemiology forecast of oral mucositis for seven major markets, including the U.S., Japan, and EU5 countries
Analysis of marketed products for the treatment of oral mucositis
Detailed regulatory framework for drug approval in the U.S., Europe, and Japan
Key winning strategies of the companies involved in the development of oral mucositis therapeutics, followed by Pharma Proff's views