Overview
Pancreatic cancer is marked by development of malignant cells in the pancreas, resulting in the formation of tumor. The disease is further classified into two main groups: endocrine and exocrine tumors. Endocrine tumors, also known as islet cell tumors or neuroendocrine tumors, are less common and most often benign. On the other hand, exocrine tumors or adenocarcinomas forms in the pancreas ducts.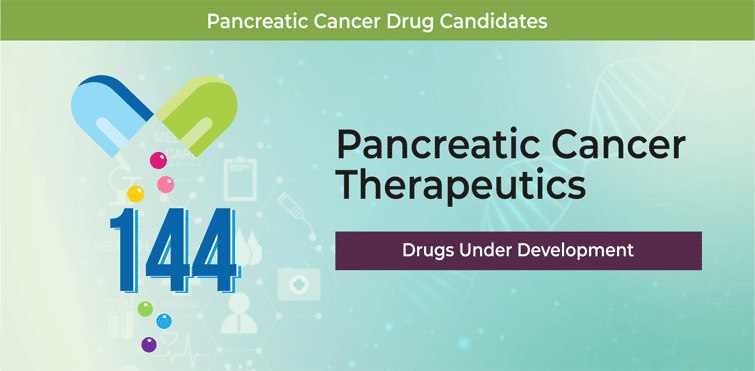 The disease has a poor prognosis and is rarely detected in its early stages due to lack of observable symptoms. Some of the risk factors associated with pancreatic cancer include diabetes, smoking, family history, obesity, age, and pancreatitis.
Pancreatic cancer can be diagnosed by clinical and radiological examinations, and biopsy. The healthcare providers mainly look for symptoms of the disease such as jaundice, pancreatitis, digestive problems, and blood clots. For further evaluation, contrast-enhanced multi-detector computed tomography (MD-CT), magnetic resonance imaging (MRI), and magnetic resonance cholangiopancreatography (MRCP) can be performed.
As per the current scenario, drug developers are actively collaborating and partnering with other companies and institutes to expand their pipeline portfolio for the treatment of this disease. For instance, in November 2018, Eleison Pharmaceuticals Inc. and Rafa Laboratories Ltd. signed a partnership agreement under which Rafa Laboratories Ltd. received exclusive marketing rights of glufosfamide in Israel, and Eleison Pharmaceuticals Inc. was entitled to receive future royalties from Rafa Laboratories Ltd.
Similarly, in April 2018, CBT Pharmaceuticals and CrystalGenomics Inc. entered into a partnership agreement to co-develop combination therapy of CBT-501 and CG200745 across immuno-oncology indications, including pancreatic cancer.
In addition, drug manufacturers are seeking designation grants from regulatory bodies to accelerate the process of drug development. For instance, in March 2018, the United States Food and Drug Administration (USFDA) granted Fast-Track Designation to FibroGen Inc.'s pemrevlumab for the treatment of pancreatic cancer. Pemrevlumab also received Orphan Drug Designation by the USFDA in June 2017.
Key Drivers
Positive clinical trial results and strategic decisions of the players to collaborate with other companies are facilitating the growth of the pipeline. For instance, AstraZeneca PLC published the preliminary results of the Phase II trial evaluating the combination of acalabrutinib and pembrolizumab for the treatment of pancreatic cancer, in the American Society of Clinical Oncology (ASCO) 2017. As per the results of the study, the combination of the two drugs demonstrated a favorable benefit/risk profile.
Moreover, increasing number of product launches is driving the pancreatic cancer therapeutics market. The disease market has witnessed the approval of four drugs in the past five years, including Lutathera (2018), Onivyde (2016), Somatuline Depot (2014), and Abraxane (2014).
Key Restraints
Lack of visibility of signs and symptoms at early stages of the disease is a major restraint for pancreatic cancer therapeutics, as the patients are unable to receive effective treatment at the later stages of the disease. Furthermore, entry of generics poses a threat as the patents of blockbuster drugs including Afinitor (Novartis AG) and Sutent (Pfizer Inc.) are about to expire in 2019 and 2021, respectively.
Pipeline Analysis
The pancreatic cancer pipeline currently comprises of 144 therapeutic candidates in different stages of development.
Competitive Landscape
Novartis AG, Pfizer Inc., AstraZeneca PLC, FibroGen Inc., Eleison Pharmaceuticals Inc., Rafa Laboratories Ltd., CBT Pharmaceuticals, CrystalGenomics Inc., Propanc Biopharma Inc., Helix BioPharma Corp., AB Science S.A, Halozyme Therapeutics Inc., and Sumitomo Dainippon Pharma Co. Ltd. are some of the key players involved in the development of pancreatic cancer therapeutics.
Report Insights
Some highlights of the report "Pancreatic Cancer Therapeutics – Pipeline Analysis 2019, Clinical Trials and Results, Patents, Designations, Collaborations, and Other Developments" have been mentioned below:
Detailed pipeline analysis of therapeutic candidates that are being developed for the treatment of pancreatic cancer, and estimates and analyses of emerging therapies and their progress status in different phases of development
Comprehensive insights into pipeline products, with special focus on strategic developments of key players; information on drug licensing, designations, financing, and grants, technological advancements; and upcoming conferences
Competitive analysis and extensive information on monotherapies, combination therapies, targets and mechanisms of action, and drug origin with relevance to pancreatic cancer
Detailed regulatory framework for drug approval in the U.S., Europe, and Japan
Key winning strategies of the companies involved in the development of pancreatic cancer therapeutics