Overview
OX40 receptor belongs to tumor necrosis factor (TNF) superfamily, whose interactions play an important role in the development of various autoimmune diseases. OX40 interactions are one of the most important pathways that determine the scope of CD4 and CD8 (cluster of differentiation 4 and 8) T-cell immunity in several inflammatory conditions. OX40 interactions play a vital role in T cell immunity. OX40 is a co-stimulatory receptor that binds to OX40L, initiating a signaling cascade, which is required for the activation of T cells. OX40 agonists have the same effect as that of OX40L, which increases the OX40 signaling, thereby re-activating the anti-tumor immune response in cancer patients. OX40 receptor agonists along with other therapies have been effective in cancer patients.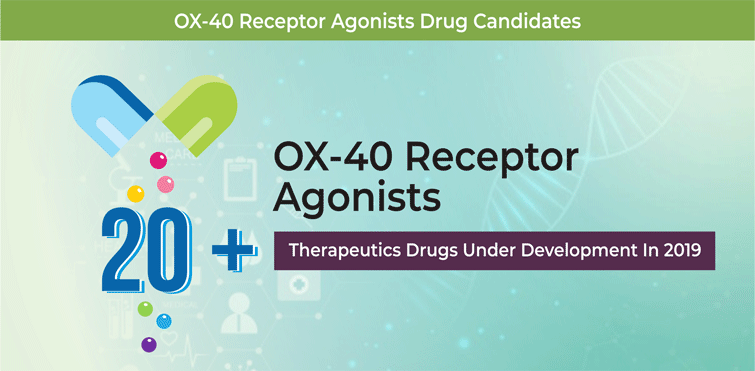 Drug manufacturers are constantly working in the direction to obtain new treatment strategies by targeting OX40 receptor. Various companies are developing drug candidates using different technologies for the development of effective and better drugs, since there is no approved drug that targets OX40 receptors.
Positive clinical trial results and strategic advancements are expected to drive the OX40 receptor agonists pipeline. Moreover, the issuance of patents helps in achieving different milestones in the form of grants and designations from regulatory bodies and institutes, including the U.S. Food and Drug Administration (USFDA), the European Medicines Agency (EMA), and the National Institutes of Health (NIH), among others.
Pipeline Analysis
As of March 2019, the OX40 receptor agonists pipeline comprised 20+ drugs in different stages of development.
Competitive Landscape
Some of the companies involved in the development of OX40 receptor agonists include Pfizer Inc., GlaxoSmithKline plc, Kymab Group Limited, MedImmune LLC, Bristol-Myers Squibb Company, Incyte Corporation, Innovent Biologics (Suzhou) Co. Ltd., and F. Hoffmann-La Roche Ltd.
Report Insights
Some highlights of the report "OX40 Receptor Agonists – Pipeline Analysis 2019, Clinical Trials and Results, Patents, Designations, Collaborations, and Other Developments" have been mentioned below:
Detailed pipeline analysis of OX40 receptor agonists, and estimates and analyses of emerging therapies and their progress status in different phases of development
Comprehensive insights into pipeline products, with special focus on strategic developments of key players, information on drug licensing, designations, financing, and grants, technological advancements, patents, and upcoming conferences
Competitive analysis and extensive information on monotherapies, combination therapies, targets and mechanisms of action, and drug origin with relevance to OX40 receptor agonists
Detailed regulatory framework for drug approval in the U.S., Europe, and Japan
Key winning strategies of the companies involved in the development of OX40 receptor agonists, followed by Pharma Proff's views