Overview
Mechanistic target of rapamycin (mTOR) is a threonine and serine protein kinase that is a great target for immunosuppressive drug rapamycin. There are two distinct complexes of mTOR: mTOR complex 1 (mTORC1) and mTOR complex 2 (mTORC2). mTORC1 is a growth regulator that senses and integrates energy levels, growth factors, amino acids, and cellular stress, whereas mTORC2 promotes cellular survival by activating Akt.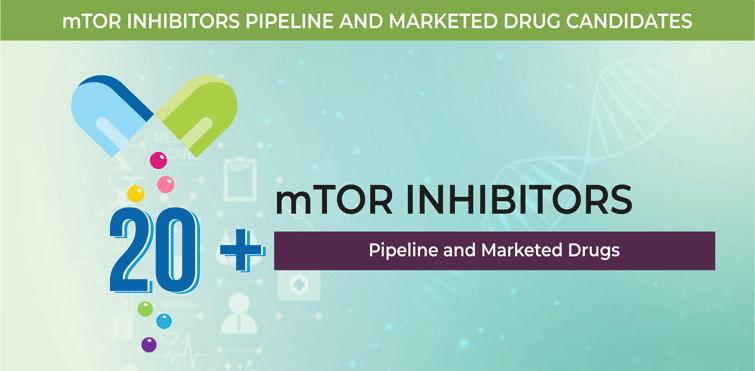 The mTOR has been found out to play an important role in cell growth and proliferation as it is a precursor for many signaling pathways. Therefore, it is considered as a therapeutic target for condition such as cancer, which occurs due to improper cell proliferation. When these pathways are dysregulated, mTOR can involve in cell growth and proliferation, which lead to cancer. This usually results in malignancies that affect kidney, breast, and neuroendocrine system. It has been found that inhibition of mTOR at the mTORC1 complex can help in the prevention of phosphorylation and translation of proteins, thus inhibiting further cell proliferation of malignant cells.
A number of drug manufacturers are actively involved in the development of mTOR inhibitors. For instance, Rapamune, manufactured by Pfizer Inc. is the U.S. Food and Drug Administration (USFDA) approved mTOR inhibitor indicated for prophylaxis of organ rejection in case of renal transplant.
Positive clinical trial results and adoption of collaboration strategies are enhancing mTOR inhibitors pipeline. Moreover, the issuance of patents helps in achieving different milestones in the form of grants and designations from regulatory bodies and institutes, including the USFDA, the European Medicines Agency (EMA), and the National Institutes of Health (NIH), among others.
Pipeline Analysis
As of June 2019, the mTOR inhibitors pipeline comprised 20+ drugs in different stages of development.
Competitive Landscape
Some of the key players involved in the development of mTOR inhibitors include F. Hoffmann-La Roche Ltd., Novartis AG, Daiichi Sankyo Company Limited, Wyeth Pharmaceuticals Inc., Pfizer Inc., and resTORbio Inc.
Report Insights
Some highlights of the report "Mechanistic Target of Rapamycin (mTOR) Inhibitors – Pipeline Analysis 2019, Clinical Trials and Results, Patents, Designations, Collaborations, and Other Developments" have been mentioned below:
Detailed pipeline analysis of mTOR inhibitors, and estimates and analyses of emerging therapies and their progress status in different phases of development
Comprehensive insights into pipeline products, with special focus on strategic developments of key players, information on drug licensing, designations, financing, and grants, technological advancements, patents, and upcoming conferences
Competitive analysis and extensive information on monotherapies, combination therapies, targets and mechanisms of action, and drug origin with relevance to mTOR inhibitors
Detailed regulatory framework for drug approval in the U.S., Europe, and Japan
Key winning strategies of the companies involved in the development of mTOR inhibitors, followed by Pharma Proff's views