Overview
Proteasomes are minute, tub-shaped structures found in cells and are responsible for the breakdown of misfolded and non-functional proteins inside the cells. It is a multi-subunit enzyme complex that plays a central role in the regulation of proteins responsible for controlling cell-cycle progression and apoptosis, and has therefore, become an important target for anti-cancer therapy. The proteins breakdown into amino acids and simple derivative compounds. Once the protein breakdown is complete, the cell can then use these derivatives to make new proteins that it might need.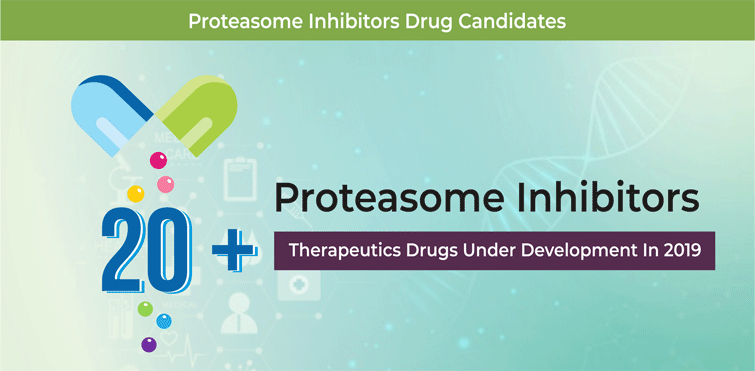 In case of cancer cells, a lot of non-functional proteins are produced that are constantly degraded by proteasomes, thereby, proliferating the cancer cells. The proteasome inhibitors target the proteasomes in the cancer cells and inhibit their activity by binding to them. Once proteasome activity seizes, proteins start accumulating inside the cancer cells and later burst due to excess accumulation, causing cell death. The proteasome inhibitors are being studied for the treatment of multiple myeloma, cancer, inflammatory disorders, and autoimmune disorders.
Velcade and Ninlaro of Takeda Pharmaceutical Company Limited are amongst the U.S. Food and Drug Administration (USFDA) approved medications targeting proteasome and are indicated for the treatment of patients with multiple myeloma. Velcade is also approved medication for mantle cell lymphoma (MCL).
Positive clinical trial results and strategic advancements are expected to drive the proteasome inhibitors pipeline. Moreover, the issuance of patents helps in achieving different milestones in the form of grants and designations from regulatory bodies and institutes, including the USFDA, the European Medicines Agency (EMA), and the National Institutes of Health (NIH), among others.
Pipeline Analysis
As of March 2019, the proteasome inhibitors pipeline comprised 20+ drugs in different stages of development.
Competitive Landscape
Some of the companies involved in the development of proteasome inhibitors include Takeda Pharmaceutical Company Limited, Amgen Inc., Conatus Pharmaceuticals Inc., Hibiskus Biopharma Inc., and Celgene Corporation.
Report Insights
Some highlights of the report "Proteasome Inhibitors – Pipeline Analysis 2019, Clinical Trials and Results, Patents, Designations, Collaborations, and Other Developments" have been mentioned below:
Detailed pipeline analysis of proteasome inhibitors, and estimates and analyses of emerging therapies and their progress status in different phases of development
Comprehensive insights into pipeline products, with special focus on strategic developments of key players, information on drug licensing, designations, financing, and grants, technological advancements, patents, and upcoming conferences
Competitive analysis and extensive information on monotherapies, combination therapies, targets and mechanisms of action, and drug origin with relevance to proteasome inhibitors
Analysis of marketed proteasome inhibitors
Detailed regulatory framework for drug approval in the U.S., Europe, and Japan
Key winning strategies of the companies involved in the development of proteasome inhibitors, followed by Pharma Proff's views