Overview
MF is a rare disease identified by the presence of excessive scar tissues in bone marrow that decreases the hematopoietic capacity of the bone marrow. The genetic mutation in the blood stem cells causes MF. These stem cells produce blood cells, which develop rapidly and prompting aggravation of scar tissues in the bone marrow. Janus Kinases 2 (JAK2), myeloproliferative leukemia virus oncogene (MPL), calreticulin (CALR), and tet methylcytosine dioxygenase 2 (TET2) play a vital role in hematopoiesis and any alterations in JAK2, MPL, CALR, and TET2 genes can be related with MF. There is an excessive production of megakaryocyte, which stimulates another cell that releases collagen. Abundance of collagen can prompt the formation of a scar tissue in the bone marrow. Symptoms of MF include fever, bone pain, extreme perspiration, shortness of breath fatigue, and others. Complications related with MF are excruciating pain in bones and joints, leukemia, and hypertension.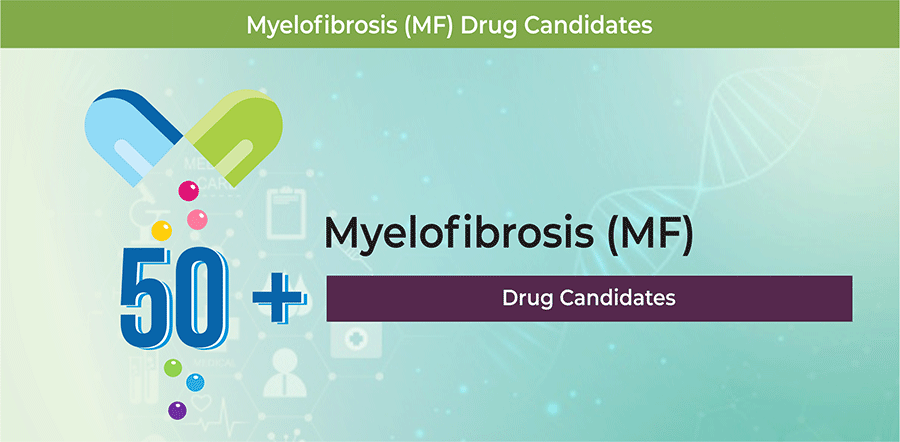 The disease can be diagnosed by performing tests including blood tests, physical examination, genetic tests, bone marrow examination, computed tomography (CT) scan, and magnetic resonance imaging (MRI) scan.
Moreover, Jakafi (Incyte Corporation) is the only U.S. Food and Drug Administration (USFDA) approved drug for the treatment of MF. The other treatment options are chemotherapy, radiation therapy, surgical removal of spleen, and stem cell replacement therapy.
Pipeline Analysis
As of March 2019, the MF therapeutics pipeline comprised 50+ therapeutic candidates in different stages of development.
Epidemiology Analysis
The report provides epidemiology forecast of MF for seven major markets, such as the U.S., Japan, and EU5 countries (the U.K., Germany, France, Italy, and Spain). It covers prevalent and treated patient population for the period 2016–2028. According to a study published in the European Journal of Hematology in 2013, the prevalence of MF in Europe is 0.1–1 per 100,000 population.
Competitive Landscape
Some of the key players involved in the development of MF therapeutics include Incyte Corporation, CTI BioPharma Corp., Suzhou Zelgen Biopharmaceuticals Co. Ltd., Novartis International AG, AbbVie Inc., Nippon Shinyaku Co. Ltd., Celgene Corporation, Sierra Oncology Inc., Promedior Inc., Imago BioSciences, Samus Therapeutics Inc., Constellation Pharmaceuticals Inc., and Kartos Therapeutics Inc.
Report Insights
Some highlights of the report "Myelofibrosis (MF) Therapeutics – Pipeline Analysis 2019, Clinical Trials and Results, Patents, Designations, Collaborations, and Other Developments" have been mentioned below:
Detailed pipeline analysis of therapeutic candidates that are being developed for the treatment of MF, and estimates and analyses of emerging therapies and their progress status in different phases of development
Comprehensive insights into pipeline products, with special focus on strategic developments of key players, information on drug licensing, designations, financing, and grants, technological advancements, patents, and upcoming conferences
Competitive analysis and extensive information on monotherapies, combination therapies, targets and mechanisms of action, and drug origin with relevance to MF
Epidemiology forecast of MF for seven major markets, including the U.S., Japan, and EU5 countries
Analysis of marketed products for the treatment of MF
Detailed regulatory framework for drug approval in the U.S., Europe, and Japan
Key winning strategies of the companies involved in the development of MF therapeutics, followed by Pharma Proff's views