Overview
Rectal cancer refers to formation of malignant cells inside the rectum. This type of cancer develops over several years, first growing as a polyp, which is precancerous growth. Whereas, some polyps can turn into cancer. There are some common symptoms of the cancer such as diarrhea, constipation, dark or red blood in stool, mucus in stool, abdominal pain, and iron deficiency. Though the exact reason of the cancer in not known, but it is expected that mutations in DNA of rectal cells lead to the cancer. Rectal cancer can also be inherited, such as hereditary nonpolyposis colorectal cancer (HNPCC), which is developed before age of 50 years, and familial adenomatous polyposis (FAP), which is developed before age of 40 years.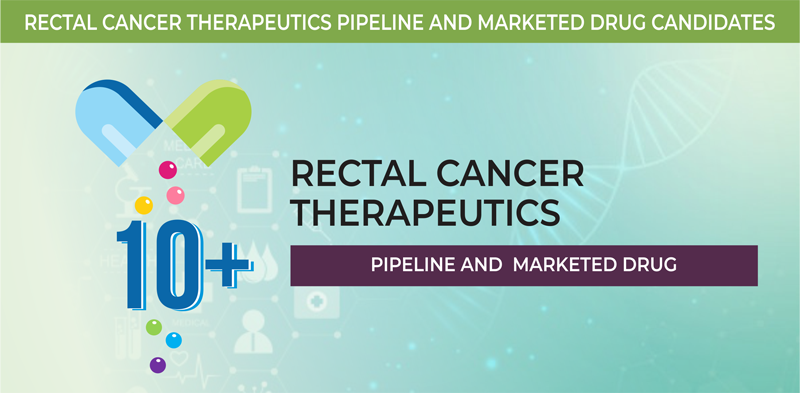 Moreover, some risk factors of the disease include family or personal history of rectal cancer, excessive alcohol consumption, smoking, and obese. It can be diagnosed by physical examination, colonoscopy, digital rectal examination, carcinoembryonic antigen (CEA) assay, and biopsy. Additionally, colonoscopy and chest X-rays help in identifying stage of the cancer.
Opdivo (Bristol-Myers Squibb Company), Avastin (Genentech Inc.), and Erbitux (Eli Lilly and Company) are some of the drugs approved by the Food and Drug Administration (FDA) for the treatment of rectal cancer.
Positive clinical trial results and adoption of collaboration strategies are enhancing rectal cancer therapeutics pipeline. Moreover, the issuance of patents helps in achieving different milestones in the form of grants and designations from regulatory bodies and institutes, including the U.S. Food and Drug Administration (USFDA), the European Medicines Agency (EMA), and the National Institutes of Health (NIH).
Pipeline Analysis
As of March 2019, the rectal cancer therapeutics pipeline comprised 10+ drugs in different stages of development.
Epidemiology Analysis
The report provides epidemiology forecast of rectal cancer for seven major markets, such as the U.S., Japan, and EU5 countries (the U.K., Germany, France, Italy, and Spain). It covers prevalent population and treated patient population for the period 2016–2028. According to GLOBOCAN-2018 statistics, there were 155,098 new cases of rectal cancer in the U.S.
Competitive Landscape
Some of the key players involved in the development of rectal cancer therapeutics are Eli Lilly and Company, Taiwan Liposome Company Ltd., Genentech Inc., Sanofi-aventis Groupe, Merck & Co. Inc., Bristol-Myers Squibb Company, Hutchison MediPharma, Seattle Genetics Inc., and Advaxis Inc.
Report Insights
Some highlights of the report "Rectal Cancer Therapeutics – Pipeline Analysis 2019, Clinical Trials and Results, Patents, Designations, Collaborations, and Other Developments" have been mentioned below:
Detailed pipeline analysis of therapeutic candidates that are being developed for the treatment of rectal cancer, and estimates and analyses of emerging therapies and their progress status in different phases of development
Comprehensive insights into pipeline products, with special focus on strategic developments of key players, information on drug licensing, designations, financing, and grants, technological advancements, patents, and upcoming conferences
Competitive analysis and extensive information on monotherapies, combination therapies, targets and mechanisms of action, and drug origin with relevance to rectal cancer
Epidemiology forecast of rectal cancer for seven major markets, including the U.S., Japan, and EU5 countries
Analysis of marketed products for the treatment of rectal cancer
Detailed regulatory framework for drug approval in the U.S., Europe, and Japan
Key winning strategies of the companies involved in the development of rectal cancer therapeutics, followed by Pharma Proff's views