Wnt Signaling Pathway Inhibitors - Pipeline Overview
Wnt or β-Catenin signaling pathway plays a key role in the development of pluripotent cells and embryonic development. The pathway regulates cell-to-cell interaction, activates blastocyst, accelerates trophoblast development, accelerate chorion-allantois fusion and implantation. However, the improper activation of the Wnt signaling pathway results in the development of cancer, tissue damage and degeneration. This makes it a very promising and attractive target for the development of anti-cancer therapies and pro-regeneration therapies.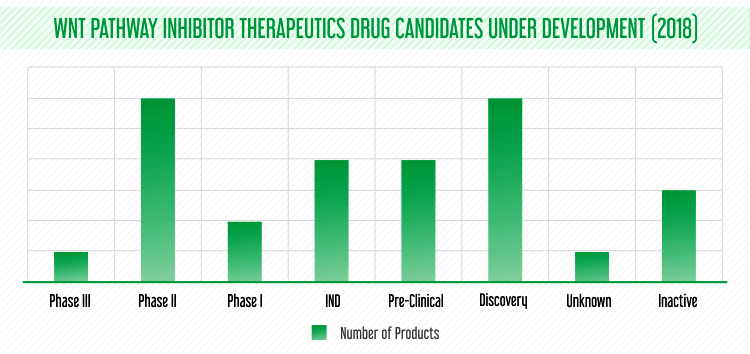 A wide range of diseases, such as different types of cancer and degenerative diseases can be treated by deregulation of components involved in Wnt/β-catenin signaling pathway. Researchers have also found the potential of this target in cardiovascular diseases however, it is yet to be tested in clinical studies.
A number of drug candidates in the Wnt signaling pathway inhibitors pipeline are being developed using proprietary technologies of the companies, which enable targeted and specific delivery of drugs. For instance, Samumed LLC's proprietary technology is based on the ability to modulate the Wnt signaling pathway.
In addition, positive clinical trial results and strategic decisions of the company to collaborate with other companies and education institutions are also facilitating drug development in the pipeline. Furthermore, the issuance of patents helps in achieving different milestones in the form of grants and designations from the regulatory bodies and institutes including the U.S. Food and Drug Administration (USFDA), the European Medicines Agency (EMA), and the National Institutes of Health (NIH) among others.
Wnt Signaling Pathway Inhibitors - Pipeline Analysis
As of January 2019, the Wnt Signaling Pathway inhibitors pipeline comprises of 27 therapeutic candidates in different stages of development.
Wnt Signaling Pathway Inhibitors - Competitive Landscape
Some of the key players involved in the development of Wnt signaling pathway inhibitors in the late and mid stages include Samumed LLC, Can-Fite BioPharma Ltd., Tactical Therapeutics Inc., Leap Therapeutics Inc., 2X Oncology Inc., Eisai Co. Ltd., and Novartis AG.
The report comprises of detailed pipeline analysis of Wnt signaling pathway inhibitors, analyzing the emerging therapies and their progress status in different phases of development. Comprehensive insights into the pipeline phase products has been provided with special focus on strategic development activities inclusive of collaboration and licensing information, drug designations, financing, grants, technological advancements, and patent. The report also contains competitive analysis and extensive information on monotherapies, combination therapies, targets and mechanism of action, and drug origin with relevance to Wnt signaling pathway inhibitors.