Overview
NF-κB is identified as a family of highly conserved transcription factors, which are responsible for many cellular functions such as regulation of inflammatory responses, apoptosis, cellular growth, and others. Diseases such as cancer, arthritis, and asthma involve NF-κB pathway. NF-κB also leads to transcription of different genes such as TNF Receptor Associated Factor 1 (TRAF1), TRAF2, cellular inhibitor of apoptosis protein-1 (cIAP1), c-IAP2, Immediate early gene X-1 (IEX-1), B-cell lymphoma-extra-large (Bcl-xL), and BfI-1/A12, depending on post translational modifications, and composition of NF-κB in the nucleus. Many proteins such as inhibitor of kappa B-alpha (IκBα), IκBβ, IκBγ, IκBε and B-cell lymphoma 3-encoded protein (Bcl-3) regulate the function of NF-κB. Since NF-κB is localized in the cytoplasm in complex with IκB kinase-α (IκKα), IκB kinase-β (IκKβ), and IκKγ/NEMO, it can be targeted by NF-κB inhibitors. NF-κB is activated when its inhibitor, IκB, is phosphorylated by IκB Kinase (IKK), then ubiquitinated and degraded.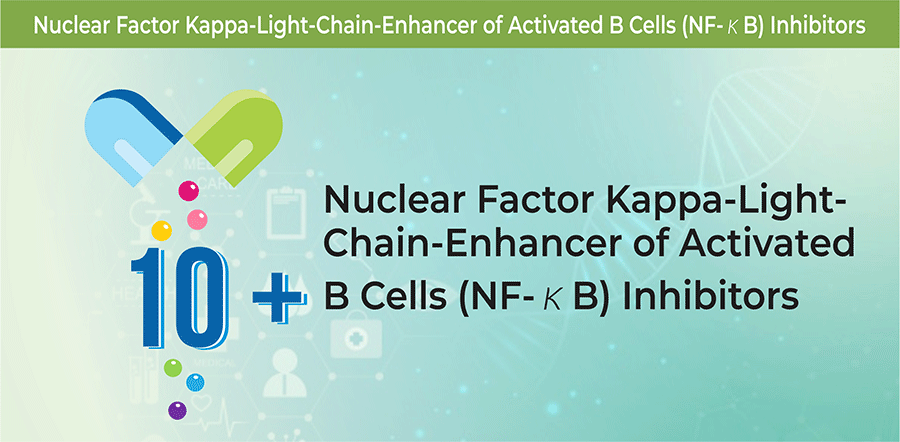 Denosumab and Bortezomib by Millennium Pharmaceuticals Inc. are amongst the U.S. Food and Drug Administration (USFDA) approved medications targeting NF-κB signaling pathway.
Positive clinical trial results and strategic advancements are expected to drive the NF-κB inhibitors pipeline. Moreover, the issuance of patents helps in achieving different milestones in the form of grants and designations from regulatory bodies and institutes, including the USFDA, the European Medicines Agency (EMA), and the National Institutes of Health (NIH), among others.
Pipeline Analysis
As of March 2019, the NF-κB inhibitors pipeline comprised 10+ drugs in different stages of development.
Competitive Landscape
Some of the companies involved in the development of NF-κB inhibitors include Alkermes plc, Incuron Inc., Catabasis Pharmaceuticals Inc., Reata Pharmaceuticals Inc., and Cleveland Bio Labs.
Report Insights
Some highlights of the report "Nuclear Factor Kappa-Light-Chain-Enhancer of Activated B Cells (NF-κB) Inhibitors – Pipeline Analysis 2019, Clinical Trials and Results, Patents, Designations, Collaborations, and Other Developments" have been mentioned below:
Detailed pipeline analysis of NF-κB inhibitors, and estimates and analyses of emerging therapies and their progress status in different phases of development
Comprehensive insights into pipeline products, with special focus on strategic developments of key players, information on drug licensing, designations, financing, and grants, technological advancements, patents, and upcoming conferences
Competitive analysis and extensive information on monotherapies, combination therapies, targets and mechanisms of action, and drug origin with relevance to NF-κB inhibitors
Analysis of marketed NF-κB inhibitors
Detailed regulatory framework for drug approval in the U.S., Europe, and Japan
Key winning strategies of the companies involved in the development of NF-κB inhibitors, followed by Pharma Proff's views