Overview
Bromodomain and extraterminal domain (BET) proteins are identified as epigenetic readers and can be characterized by the presence of two tandem bromodomains (BD1 and BD2), extraterminal domain (ET), and a C-terminal domain (CTD). These proteins bind with chromatin and play a key role in transcription. The BET family consists of BRD2, BRD3, BRD4, and BRDT; of which, BRD2, BRD3, and BRD4 are expressed in all the tissues, while BRDT is expressed only in testes. The BET proteins have transcriptional activity and hence are actively involved in carcinogenesis.
Moreover, BET inhibitors are small molecules that are assumed to bind to the MYC gene, which is the most favorable target for cancer therapeutics. The BET inhibitors bind to acetylated lysine motifs and prevent the interaction between acetylated lysine and BET proteins. This interrupts the gene expression and chromatin remodeling, thereby reducing the growth of tumor cells.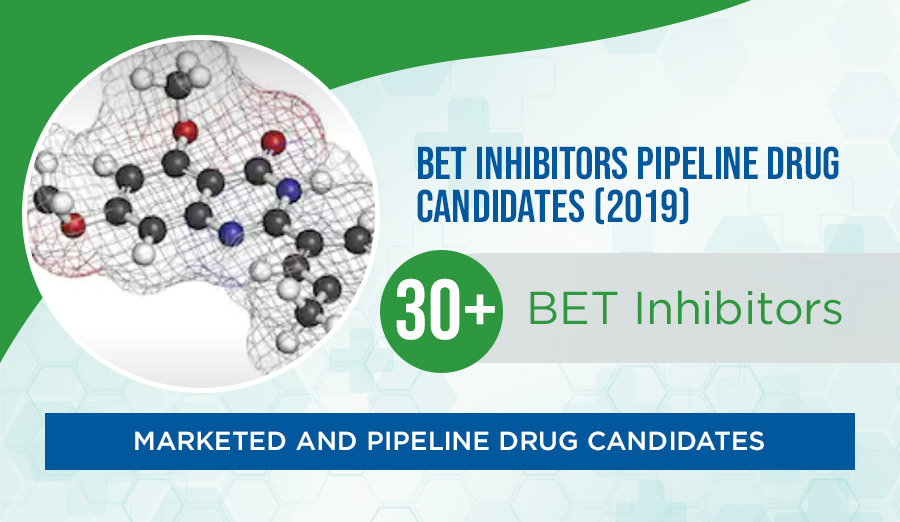 Therefore, drug manufacturers are constantly working in the direction to obtain new treatment strategies by targeting BET proteins. Various companies are developing drug candidates using different technologies for the development of effective and better drugs. However, at present, no drug has been approved that targets BET proteins.
Positive clinical trial results and strategic advancements are expected to drive the BET inhibitors pipeline. Moreover, the issuance of patents helps in achieving different milestones in the form of grants and designations from regulatory bodies and institutes, including the United States Food and Drug Administration (USFDA), the European Medicines Agency (EMA), and the National Institutes of Health (NIH).
Pipeline Analysis
As of 2019, the BET inhibitors pipeline comprised 30+ drugs in different stages of development.
Competitive Landscape
Some of the companies involved in the development of BET inhibitors include Constellation Pharmaceuticals Inc., Resverlogix Corp., GlaxoSmithKline plc, Bristol-Myers Squibb Company, F. Hoffmann-La Roche Co. Ltd., and FORMA Therapeutics Inc.
Report Insights
Some highlights of the report "Bromodomain and Extraterminal Domain (BET) Inhibitors ­– Pipeline Analysis 2019, Clinical Trials and Results, Patents, Designations, Collaborations, and Other Developments" have been mentioned below:
Detailed pipeline analysis of BET inhibitors, and estimates and analyses of emerging therapies and their progress status in different phases of development
Comprehensive insights into pipeline products, with special focus on strategic developments of key players, information on drug licensing, designations, financing, and grants, technological advancements, patents, and upcoming conferences
Competitive analysis and extensive information on monotherapies, combination therapies, targets and mechanisms of action, and drug origin with relevance to BET inhibitors
Insights on the unmet medical needs
Attribute analysis and expected launch timeline of late-stage clinical drugs
SWOT analysis
Detailed regulatory framework for drug approval in the U.S., Europe, and Japan
Key winning strategies of the companies involved in the development of BET inhibitors, followed by Pharma Proff's views