Overview
Post-traumatic stress disorder (PTSD) is a neurological disorder that develops in people who have experienced a shocking, scary, or dangerous event. It usually occurs more often in women than in men. It is natural for a person to be feared during or after a traumatic situation. This fear triggers many split-second changes in the body to fight against any dangerous situation and helps the person to avoid danger in future. This is known as "fight-or-flight" response, which is one of the essential body's defensive mechanism that protects body in adverse conditions.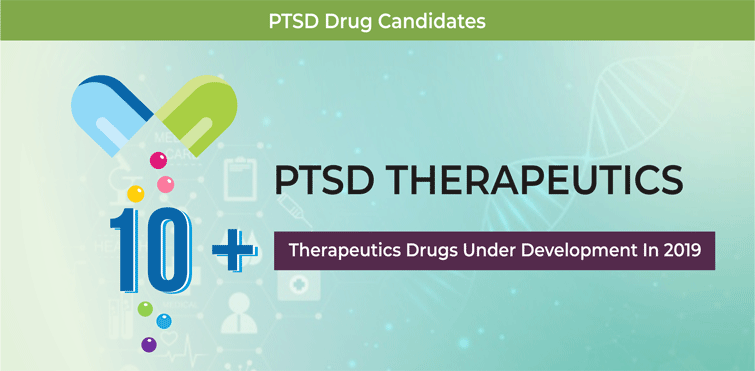 Most of the people recover from traumatic situation naturally, but those who continue to experience problems are diagnosed with PTSD. Delayed-onset, complex, and birth trauma are the three types of PTSD. Symptoms associated with the disease include bad dreams, frightening thoughts, and distorted feelings like guilt or blame. However, the diagnosis of PTSD may be difficult as the patient may forget the incident or simply fail to tell the therapist about it. Certain therapies used to treat PTSD include cognitive behavioral therapy (CBT) in which the patient is taught relaxation techniques and the mental process of the person is also examined. Medication such as ZOLOFT (Pfizer Inc.), a selective serotonin reuptake inhibitor (SSRI), is being used for the treatment of PTSD.
A number of drug manufacturers are actively involved in the development of PTSD therapeutics. For instance, Bionomics Limited is developing BNC210, a novel, first in class, negative allosteric modulator of the A7 nicotinic acetylcholine receptor, for patients suffering from PTSD. The results from the phase II stage clinical trial of BNC210 showed that BNC210 was safe and well tolerable in patients with PTSD.
Positive clinical trial results and adoption of collaboration strategies are enhancing PTSD therapeutics pipeline. Moreover, the issuance of patents helps in achieving different milestones in the form of grants and designations from regulatory bodies and institutes, including the U.S. Food and Drug Administration (USFDA), the European Medicines Agency (EMA), and the National Institutes of Health (NIH), among others.
Pipeline Analysis
As of March 2019, the PTSD therapeutics pipeline comprised 10+ drugs in different stages of development.
Epidemiology Analysis
The report provides epidemiology forecast of PTSD for seven major markets, such as the U.S., Japan, and EU5 countries (the U.K., Germany, France, Italy, and Spain). It covers prevalent population and treated patient population for the period 2016–2028. According to the Anxiety and Depression Association of America, around 7.7 million Americans aged 18 years or above suffered from PTSD in 2018.
Competitive Landscape
Some of the key players involved in the development of PTSD therapeutics are H. Lundbeck A/S, Otsuka Pharmaceutical Co. Ltd., Pfizer Inc., Bionomics Limited, and Axim Biotechnologies Inc.
Report Insights
Some highlights of the report "Post-Traumatic Stress Disorder (PTSD) Therapeutics – Pipeline Analysis 2019, Clinical Trials and Results, Patents, Designations, Collaborations, and Other Developments" have been mentioned below:
Detailed pipeline analysis of therapeutic candidates that are being developed for the treatment of PTSD, and estimates and analyses of emerging therapies and their progress status in different phases of development
Comprehensive insights into pipeline products, with special focus on strategic developments of key players, information on drug licensing, designations, financing, and grants, technological advancements, patents, and upcoming conferences
Competitive analysis and extensive information on monotherapies, combination therapies, targets and mechanisms of action, and drug origin with relevance to PTSD
Epidemiology forecast of PTSD for seven major markets, including the U.S., Japan, and EU5 countries
Analysis of marketed products for the treatment of PTSD
Detailed regulatory framework for drug approval in the U.S., Europe, and Japan
Key winning strategies of the companies involved in the development of PTSD therapeutics, followed by Pharma Proff's views