Overview
Post-operative pain is a very common problem after any surgery and it is necessary to treat the same effectively, so that the patient feels more comfortable. According to the American Society of Anesthesiologist practice guidelines for acute pain management in the perioperative setting, acute pain is defined as pain that is present in a surgical patient after a procedure. The World Health Organization and the International Association for the Study of Pain have recognized pain relief as a human right. Uncontrolled acute pain is associated with the development of chronic pain with reduction in quality of life. Appropriate pain relief leads to shortened hospital stays, reduced hospital costs, and increased patient satisfaction. As a result, the management of postoperative pain is an increasingly monitored quality measure. The Hospital Consumer Assessment of Healthcare Providers and Systems (HCAHPS) survey is the national, standardized, publicly reported survey. It is mainly used for measuring patient's perceptions of their hospital experience.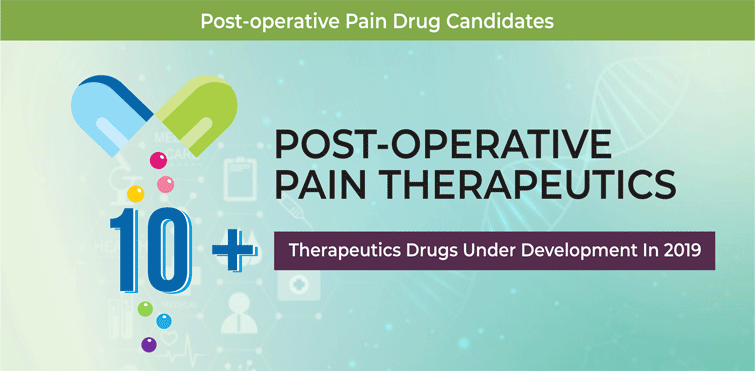 Various management programs are approved by health authorities for the management of pain. These include pre-emptive analgesia, opioid analgesia, intravenous patient-controlled analgesia, epidural and spinal analgesia, nonopioid analgesia, peripheral nerve blocks, and local infiltration. These programs are also helpful in the management of post-operative pain in chronic pain and obese patients. Fentanyl citrate injection developed by Akorn Inc. is the marketed drug for the treatment of post-operative pain.
A number of drug manufacturers are actively involved in the development of post-operative pain therapeutics. For instance, Heron Therapeutics Inc. is developing HTX-011, a long-acting formulation of the local anesthetic bupivacaine, for the prevention of post-operative pain. The top-line results from phase II studies of HTX-011 in patients with post-operative pain showed that HTX-011 was able to reduce pain intensity through 96 hours after bunion surgery and through 48 hours after hernia surgery.
Positive clinical trial results and adoption of collaboration strategies are enhancing post-operative pain therapeutics pipeline. Moreover, the issuance of patents helps in achieving different milestones in the form of grants and designations from regulatory bodies and institutes, including the U.S. Food and Drug Administration (USFDA), the European Medicines Agency (EMA), and the National Institutes of Health (NIH), among others.
Pipeline Analysis
As of March 2019, the post-operative pain therapeutics pipeline comprised 10+ drugs in different stages of development.
Epidemiology Analysis
The report provides epidemiology forecast of post-operative pain for seven major markets, such as the U.S., Japan, and EU5 countries (the U.K., Germany, France, Italy, and Spain). It covers prevalent population and treated patient population for the period 2016–2028. According to an article published in The Journal of Pain in 2016, more than 80% of patients who underwent surgical procedures experienced acute postoperative pain.
Competitive Landscape
Some of the key players involved in the development of post-operative pain therapeutics are Akorn Inc., DURECT Corporation, Elite Pharmaceuticals Inc., Heron Therapeutics Inc., Elite Pharmaceuticals Inc., Epic Pharma LLC, and Cara Therapeutics Inc.
Report Insights
Some highlights of the report "Post-Operative Pain Therapeutics – Pipeline Analysis 2019, Clinical Trials and Results, Patents, Designations, Collaborations, and Other Developments" have been mentioned below:
Detailed pipeline analysis of therapeutic candidates that are being developed for the treatment of post-operative pain, and estimates and analyses of emerging therapies and their progress status in different phases of development
Comprehensive insights into pipeline products, with special focus on strategic developments of key players, information on drug licensing, designations, financing, and grants, technological advancements, patents, and upcoming conferences
Competitive analysis and extensive information on monotherapies, combination therapies, targets and mechanisms of action, and drug origin with relevance to post-operative pain
Epidemiology forecast of post-operative pain for seven major markets, including the U.S., Japan, and EU5 countries
Analysis of marketed products for the treatment of post-operative pain
Detailed regulatory framework for drug approval in the U.S., Europe, and Japan
Key winning strategies of the companies involved in the development of post-operative pain therapeutics, followed by Pharma Proff's views