Overview
Alzheimer's disease is a progressive brain disorder that is caused by the loss of brain cells and degeneration of brain tissues. It is the most common cause of dementia and leads to deterioration in thinking, behavioral, and social skills. The progression of the disease leads to severe impairment of cognitive ability, wherein patients lose their ability to carry out day-to-day tasks. Alzheimer's disease can either be caused due to genetic impairment or old age. Presence of apolipoprotein E (APOE) gene is one of the risk factors associated with the disease.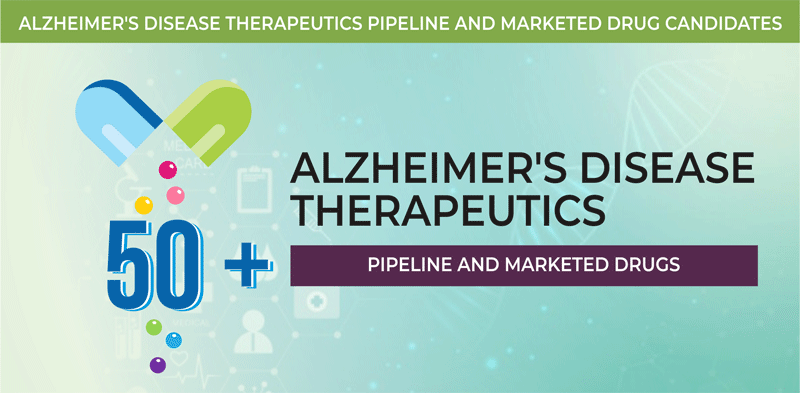 The disease has three major stages: mild, moderate, and severe. In the mild or early stage of the disease, the patients may experience minute memory lapses and encounter difficulty in performing daily tasks, and the symptoms in this stage also include impairment of vision, wandering, trouble handling money and paying bills, repeating questions, and personality and behavioral changes. In the moderate stage, the patients experience prolonged and pronounced symptoms of dementia, followed by hallucinations, delusions, and paranoia. In the final or severe stage of Alzheimer's disease, the symptoms of dementia become severe and result in worsened memory and cognitive skills. In this stage, the patients require regular care and assistance, and find difficulty in communicating.
The symptoms of the disease can be managed by nutritious diet, social engagement, physical activities, and mentally stimulating activities. However, the particular cure of the disease remains unidentified. Alzheimer's disease can be diagnosed by observing the behavioral changes in people, memory or analytical test, blood test, computed tomography (CT) scan, and magnetic resonance imaging (MRI) scan.
Furthermore, some of FDA approved products responsible for reducing the symptoms of the disease include, Aricept (Eisai Co. Ltd.), Razadyne (Janssen Pharmaceuticals Inc.), Exelon (Novartis AG).
Positive clinical trial results and adoption of collaboration strategies are enhancing Alzheimer's disease therapeutics pipeline. Moreover, the issuance of patents helps in achieving different milestones in the form of grants and designations from regulatory bodies and institutes, including the U.S. Food and Drug Administration (USFDA), the European Medicines Agency (EMA), and the National Institutes of Health (NIH).
Pipeline Analysis
As of July 2019, the Alzheimer's disease therapeutics pipeline comprised 50+ drugs in different stages of development.
Epidemiology Analysis
The report provides epidemiology forecast of Alzheimer's disease for seven major markets, such as the U.S., Japan, and EU5 countries (the U.K., Germany, France, Italy, and Spain). It covers prevalent population and treated patient population for the period 2016–2028. According to an article published in journal, Epidemiology and Global Health, in March 2019, Alzheimer's disease is the most common type of dementia, which accounted for 50–75% of the total dementia cases in 2018.
Competitive Landscape
Some of the key players developing drugs for Alzheimer's disease include Novartis AG, TauRx, Acelot Inc., Eli Lilly and Company, Genentech Inc., Biogen Inc., MorphoSys AG, Green Valley Pharmaceutical Co. Ltd., AstraZeneca PLC, Boehringer Ingelheim International GmbH, AbbVie Inc., Grifols S.A., Alzheon Inc., and Eisai Co. Ltd.
Report Insights
Some highlights of the report "Alzheimer's Disease Therapeutics – Pipeline Analysis 2019, Clinical Trials and Results, Patents, Designations, Collaborations, and Other Developments" have been mentioned below:
Detailed pipeline analysis of therapeutic candidates that are being developed for the treatment of Alzheimer's disease, and estimates and analyses of emerging therapies and their progress status in different phases of development
Comprehensive insights into pipeline products, with special focus on strategic developments of key players, information on drug licensing, designations, financing, and grants, technological advancements, patents, and upcoming conferences
Competitive analysis and extensive information on monotherapies, combination therapies, targets and mechanisms of action, and drug origin with relevance to Alzheimer's disease
Epidemiology forecast of Alzheimer's disease for seven major markets, including the U.S., Japan, and EU5 countries
Analysis of marketed products for the treatment of Alzheimer's disease
Detailed regulatory framework for drug approval in the U.S., Europe, and Japan
Key winning strategies of the companies involved in the development of Alzheimer's disease therapeutics, followed by Pharma Proff's views