Overview
β-site Aβ cleaving enzyme, also known as beta-secretase (BACE), is a precursor of BACE α-amyloid (Aβ) protein generation. It is an aspartic-acid protease, which is an essential component in the formation of myelin sheaths in peripheral nerve cells. The enzyme contains two active sites for aspartate residues in its extracellular domain which may also function as a dimer.
BACE can be classified into BACE1 and BACE2. BACE1 is an aspartic protease, which uses an aspartate residue for the catalysis of substrates. On the other hand, BACE2 is a homologue of BACE1 that is mapped to the down syndrome (DS) critical region. However, BACE2 does not appear to be the major BACE and cannot compensate for loss of BACE function. Moreover, the inhibition of BACE activity tends to stop the formation of Aβ, thereby preventing the damage of brain cells.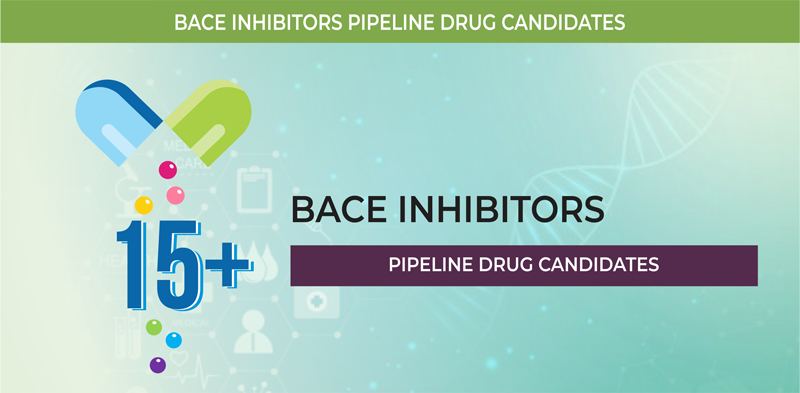 The stimulation of BACE is responsible for the progression of Alzheimer's disease (AD). AD is a brain disorder that is characterized by memory loss and causes problems with behavior, thinking, and memory. Symptoms of the disorder develop slowly with time and may worsen as the disease progresses. Currently, there is no cure for AD. There are five prescription drugs approved by the U.S. Food and Drug Administration (USFDA) to treat the symptoms of the disease, such as Aricept (Eisai Co. Ltd.), Razadyne (Janssen Pharmaceuticals Inc.), Namenda and Namzaric (Forest Pharmaceuticals Inc.), and Exelon (Novartis AG). However, none of these products target BACE.
Positive clinical trial results and strategic advancements are expected to drive the BACE inhibitors pipeline. Moreover, the issuance of patents helps in achieving different milestones in the form of grants and designations from regulatory bodies and institutes, including the , the European Medicines Agency (EMA), and the National Institutes of Health (NIH).
Pipeline Analysis
As of September 2019, the BACE inhibitors pipeline comprised 15+ drugs in different stages of development.
Competitive Landscape
Some of the companies involved in the development of BACE inhibitors include AstraZeneca PLC, Biogen Inc., Novartis AG, Johnson & Johnson Services Inc., Shionogi & Co. Ltd., and Eisai Co. Ltd.
Report Insights
Some highlights of the report "β-Site Aβ Cleaving Enzyme or Beta-Secretase (BACE) Inhibitors – Pipeline Analysis 2019, Clinical Trials and Results, Patents, Designations, Collaborations, and Other Developments" have been mentioned below:
Detailed pipeline analysis of BACE inhibitors, and estimates and analyses of emerging therapies and their progress status in different phases of development
Comprehensive insights into pipeline products, with special focus on strategic developments of key players, information on drug licensing, designations, financing, and grants, technological advancements, patents, and upcoming conferences
Competitive analysis and extensive information on monotherapies, combination therapies, targets and mechanisms of action, and drug origin with relevance to BACE inhibitors
Detailed regulatory framework for drug approval in the U.S., Europe, and Japan
Insights on the unmet medical needs
Attribute analysis and expected launch timeline of late-stage clinical drugs
SWOT analysis
Key winning strategies of the companies involved in the development of BACE inhibitors, followed by Pharma Proff's views