Overview
Friedreich's Ataxia (FRDA) is an inherited disease of the central nervous system. It is the most common autosomal recessive ataxia caused by an abnormality of a single gene called the Frataxin FXN gene. The abnormality can be passed from generation to generation by family members who carry it. Males and females are equally likely to inherit the genes that cause FRDA. Symptoms usually begin between ages 5 and 25; however, occasionally appear in younger children or adults aged 30–40 years. Symptoms associated with FRDA include difficulty with balance, impaired coordination of the legs or arms, and thick or slurred speech.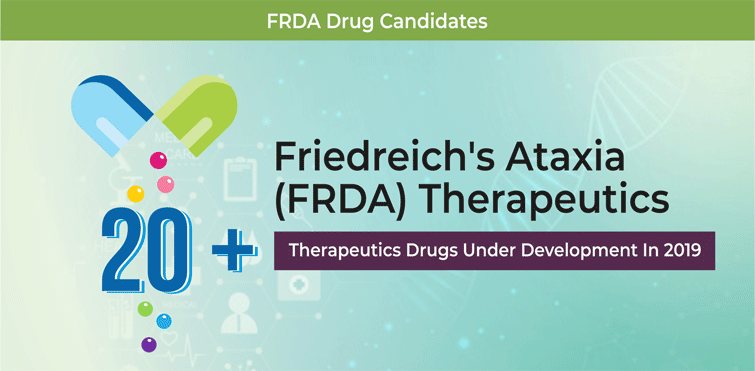 Diagnosis of FRDA is made through physical examination and gene test to search for abnormalities in the brain and spinal cord. Levels of FXN in the spinal cord and brain are much lower than normal in individuals with FRDA. Treatments available for the disease target the symptoms rather than the disease. For instance, heart disease is the most life-threatening symptom associated with FRDA, which can be treated using drugs such as angiotensin-converting enzyme (ACE) inhibitors, diuretics, and beta blockers. Likewise, diabetes, the other symptom due to FRDA can be managed with insulin.
A number of drug manufacturers are actively involved in the development of FRDA therapeutics. For instance, Reata Pharmaceuticals Inc. is developing omaveloxolone capsules in collaboration with AbbVie Inc. for the treatment of FRDA. The results of the part 1 of the phase II trial of omaveloxolone in patients with FRDA showed omaveloxolone induced nuclear factor erythroid 2–related factor 2 (NRF2), which is suppressed in FRDA patients, and this was associated with improvements in mitochondrial and neurological function.
Positive clinical trial results and adoption of collaboration strategies are enhancing FRDA therapeutics pipeline. Moreover, the issuance of patents helps in achieving different milestones in the form of grants and designations from regulatory bodies and institutes, including the U.S. Food and Drug Administration (USFDA), the European Medicines Agency (EMA), and the National Institutes of Health (NIH), among others.
Pipeline Analysis
As of March 2019, the FRDA therapeutics pipeline comprised 20+ drugs in different stages of development.
Epidemiology Analysis
The report provides epidemiology forecast of FRDA for seven major markets, such as the U.S., Japan, and EU5 countries (the U.K., Germany, France, Italy, and Spain). It covers prevalent population and treated patient population for the period 2016–2028. According to the National Organization for Rare Disorders (NORD), the prevalence of FRDA is approximately 1 in 40,000 people.
Competitive Landscape
Some of the key players involved in the development of FRDA therapeutics are Reata Pharmaceuticals Inc., AbbVie Inc., Takeda Pharmaceutical Company Limited, and Jupiter Orphan Therapeutics Inc.
Report Insights
Some highlights of the report "Friedreich's Ataxia (FRDA) Therapeutics – Pipeline Analysis 2019, Clinical Trials and Results, Patents, Designations, Collaborations, and Other Developments" have been mentioned below:
Detailed pipeline analysis of therapeutic candidates that are being developed for the treatment of FRDA, and estimates and analyses of emerging therapies and their progress status in different phases of development
Comprehensive insights into pipeline products, with special focus on strategic developments of key players, information on drug licensing, designations, financing, and grants, technological advancements, patents, and upcoming conferences
Competitive analysis and extensive information on monotherapies, combination therapies, targets and mechanisms of action, and drug origin with relevance to FRDA
Epidemiology forecast of FRDA for seven major markets, including the U.S., Japan, and EU5 countries
Analysis of marketed products for the treatment of FRDA
Detailed regulatory framework for drug approval in the U.S., Europe, and Japan
Key winning strategies of the companies involved in the development of FRDA therapeutics, followed by Pharma Proff's views