Overview
Neurofibromatosis (NF) is a genetic disorder that leads to the development of tumors on various nerve tissues. These are usually benign, but it can turn malignant in some cases. There are three types of NF: NF1, which causes deformed bones and skin changes; NF2, which causes loss of hearing and poor balance; and schwannomatosis, which is a rare and painful condition and causes multiple tumors comprising schwann cells to develop on cranial, spinal, and peripheral nerves. The causes of NF1 and NF2 are defects on chromosome 17 and chromosome 22, respectively. Schwannomatosis is a genetic condition and is associated with mutation in the INI1/SNF5/SMARCB1 gene at chromosomal band 22q11.2 and LZTR1 gene.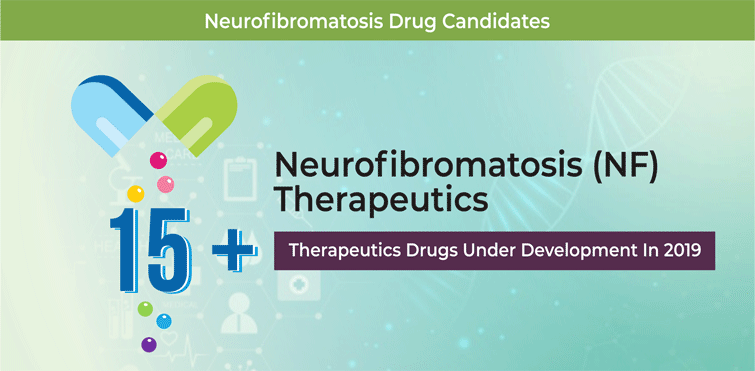 This disorder usually gets diagnosed in early childhood due to its symptoms, which include presence of light brown spots under the skin, manifestation of freckles in groin or under armpits, enlargement or malformation of bones in skeletal system, and many others. The disease becomes prominent in 10–15 years of age. Diagnosis of NF1 can be through physical examination under special lamps, X-rays, computerized tomography (CT) scan, or blood test. On the other hand, NF2 type can be diagnosed by hearing and audiometry tests.
NF can be treated by surgery to remove tumors, stereotactic radiosurgery, brainstem implants, and medications. There are many drugs being developed for the treatment of this disease.
Positive clinical trial results and strategic decisions of companies to collaborate with other companies are facilitating drug development in the NF therapeutics pipeline arena. Additionally, the issuance of patents helps in achieving different milestones in the form of grants and designations from regulatory bodies and institutes, including the U.S. Food and Drug Administration (USFDA), the European Medicines Agency (EMA), and the National Institutes of Health (NIH).
Pipeline Analysis
As of March 2019, the NF therapeutics pipeline comprised 15+ therapeutic candidates in different stages of development.
Epidemiology Analysis
The report provides epidemiology forecast of NF for seven major markets, such as the U.S., Japan and EU5 countries (the U.K., Germany, France, Italy, and Spain). The report offers ten-year forecast data for prevalent and treated cases in each market pertaining to the total population. It covers prevalent population and treated patient population for the period 2016–2028. As reported in an article published by the National Center for Biotechnology Information (NCBI) in 2016, the disorder affected 1 in 3,000 live births.
Competitive Landscape
Some of the key players involved in the development of NF therapeutics in late as well as mid phase are Novartis International AG, AstraZeneca PLC, Pfizer Inc., GlaxoSmithKline plc, Merck & Co. Inc, and BioXcel Therapeutics Inc.
Report Insights
Some highlights of the report "Neurofibromatosis (NF) Therapeutics – Pipeline Analysis 2019, Clinical Trials and Results, Patents, Designations, Collaborations, and Other Developments" have been mentioned below:
Detailed pipeline analysis of therapeutic candidates that are being developed for the treatment of NF, and estimates and analyses of emerging therapies and their progress status in different phases of development
Comprehensive insights into pipeline products, with special focus on strategic developments of key players, information on drug licensing, designations, financing, and grants, technological advancements, patents, and upcoming conferences
Competitive analysis and extensive information on monotherapies, combination therapies, targets and mechanisms of action, and drug origin with relevance to NF
Epidemiology forecast of NF for seven major markets, including the U.S., Japan, and EU5 countries
Analysis of marketed products for the treatment of NF
Detailed regulatory framework for drug approval in the U.S., Europe, and Japan
Key winning strategies of the companies involved in the development of NF therapeutics, followed by Pharma Proff's views