Overview
Progressive supranuclear palsy (PSP), also known as Steele-Richardson-Olszewski syndrome, is a rare brain disorder, which affects behavior and thinking capability of an individual. Individual suffering from this disorder also experiences difficulties in speaking, swallowing, balancing, and controlling eye movements. The disease progresses at a slower rate and damages nuclei of neurons in brain. Signs and symptoms of PSP vary from person to person. With the progression of disease, patients also experience blurry vision.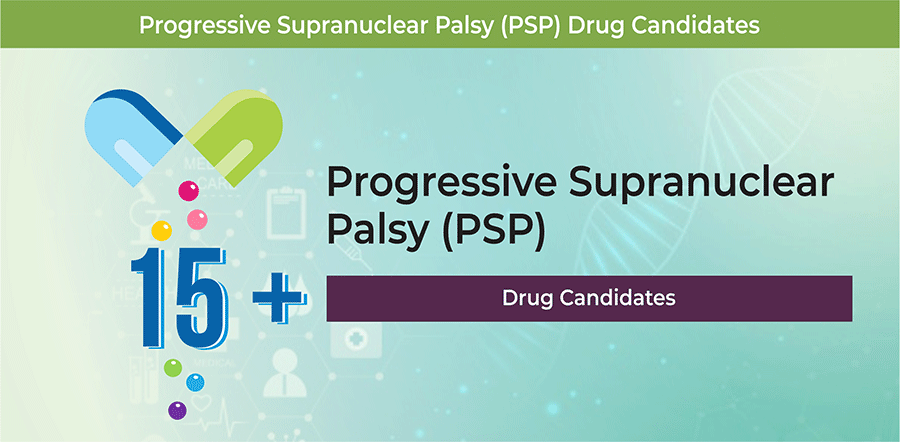 The diagnosis of the disease is challenging as the signs and symptoms are quite similar to Parkinson's disease. However, slowness of eye movement can be assessed for diagnosing PSP. Other diagnostic methods include brain scans such as magnetic resonance imaging (MRI), positron emission tomography (PET), and neuropsychological testing.
The exact cause of PSP is still unknown; however, the symptoms are caused by a gradual deterioration of brain cells in the brain stem. Currently, there is no cure available for PSP; but patients can be prescribed with anti-depressants, physiotherapy, speech and language therapy, change in diet plan, occupational therapy, and others to manage the symptoms of the disease.
In addition, strategic decisions of companies to collaborate with other companies are also facilitating drug development in the pipeline. Additionally, the issuance of patents helps in achieving different milestones in the form of grants and designations from regulatory bodies and institutes, including the U.S. Food and Drug Administration (USFDA), the European Medicines Agency (EMA), and the National Institutes of Health (NIH), among others.
Pipeline Analysis
As of March 2019, the PSP therapeutics pipeline comprises 15+ therapeutic candidates in different stages of development.
Epidemiology Analysis
The report provides epidemiology forecast of PSP for seven major markets, such as the U.S., Japan, and EU5 countries (the U.K., Germany, France, Italy, and Spain). It covers prevalent population and treated patient population for the period 2016–2028. According to the National Institutes of Health (NIH) 2018 data, it is estimated that about three to six in every 100,000 people globally have PSP.
Competitive Landscape
Some of the key players involved in the development of PSP therapeutics in the late- and mid-stage, include AbbVie Inc., Déclion Inc., Alectos Therapeutics Inc., Prothena Corporation plc, Asceneuron SA, Prana Biotechnology Limited, Biogen Inc., and AlzProtect S.A.S.
Report Insights
Some highlights of the report, "Progressive Supranuclear Palsy (PSP) Therapeutics – Pipeline Analysis 2019, Clinical Trials & Results, Patents, Designations, Collaborations, and Other Developments", include:
Detailed pipeline analysis of therapeutic candidates, which are being developed for the treatment of PSP, estimates and analyzes the emerging therapies and their progress status in different phases of development
Comprehensive insights into the pipeline phase products, with special focus on strategic development activities, inclusive of collaboration and licensing information, drug designations, financing, grants, technological advancements, patents, and upcoming conferences
Competitive analysis and extensive information on monotherapies, combination therapies, targets and mechanism of action, and drug origin with relevance to PSP
Epidemiology forecast of PSP for seven major markets (referred to as 7MM in the report), which include the U.S., Japan, and EU5 countries
Detailed regulatory framework for drug approval in the U.S., Europe, and Japan
Key winning strategies of companies involved in the PSP therapeutic development, followed by Pharma Proff's views