Overview
ALD is a X-linked monogenetically inherited from parents to offspring, with 100% penetrance in men and 65% in heterozygous women. It is a multi-system disorder which prominently affects both central and peripheral nervous system and results in blindness, seizures and hyperactivity. On the basis of symptoms and age, ALD can be classified into three categories, namely Childhood Cerebral Adrenoleukodystrophy (ccALD), Adrenomyeloneuropathy (AMN), and Addison's Disease.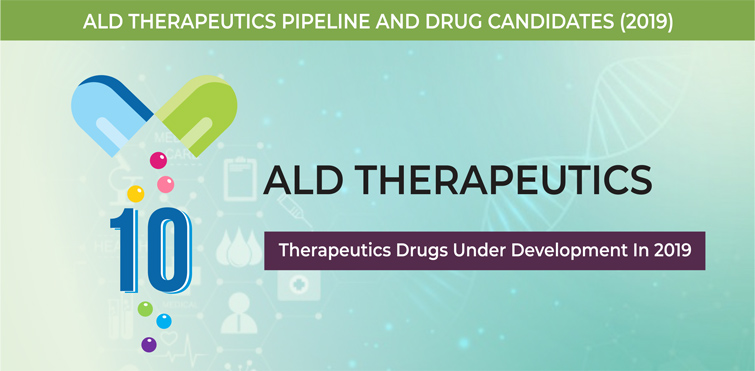 ALD is a genetic disease caused by mutation on ABCD1 gene located on X-chromosome, which function as peroxisomal membrane transporter and code for adrenoleukodystrophy protein (ALDP). The pathophysiologic condition of disease includes the accumulation of saturated very long chain fatty acids (VLCFA) in serum and tissues of central nervous system, which is a major factor for immune system abnormality and demyelination of neurons. Due to mutation on ABCD1, fatty acids get accumulated on neurons, thus affecting the flow of sensory message in brain and results in disability.
This disease can be managed to prevent eventual death, by early diagnosis through analysis of family history, newborn screening, adrenal insufficiency, and progressive behavior problems.
Currently, there is no drug approved in the market for the treatment of ALD. However, the ALD drugs under trials by bluebird bio Inc., and Minoryx Therapeutics S.L, have been able to reach the late stage of clinical development. Furthermore, various other companies involved in ALD therapeutics pipeline have received designations from the regulatory bodies and institutes. The approval, and issuance of patents helps in achieving different milestones in the form of grants and designations from the regulatory bodies and institutes, including the United States Food and Drug Association (USFDA), the European Medicines Agency (EMA), and the National Institutes of Health (NIH) among others.
Pipeline Analysis
As of August 2019, the ALD therapeutics pipeline comprises of 10 drugs in different stages of development.
Competitive Landscape
Some of the key players involved in the development of drugs for ALD are Poxel SA, bluebird bio Inc., Minoryx Therapeutics SL, NeuroVia Inc., SOM Innovation Biotech SL, Viking Therapeutics Inc., Orpheris Inc., MedDay Pharmaceuticals, Applied Genetic Technologies Corporation (AGTC), and Neuralgene.
Report Insights
Some highlights of the Adrenoleukodystrophy (ALD) Therapeutics - Pipeline Analysis 2019, Clinical Trials and Results, Patents, Designations, Collaborations and Other Developments report includes:
Detailed pipeline analysis of therapeutic candidates that are being developed for the treatment of ALD, and estimates and analyses of emerging therapies and their progress status in different phases of development
Comprehensive insights into pipeline products, with special focus on strategic developments of key players, information on drug licensing, designations, financing, and grants, technological advancements, patents, and upcoming conferences
Competitive analysis and extensive information on monotherapies, combination therapies, targets and mechanisms of action, and drug origin with relevance to ALD
Detailed regulatory framework for drug approval in the U.S., Europe, and Japan
Key winning strategies of the companies involved in the development of ALD therapeutics, followed by Pharma Proff's views