Overview
Cushing's syndrome is a result of overproduction of cortisol hormone, which helps to maintain of stress level and blood pressure, regulate blood glucose, and reduce inflammation. In addition, pituitary tumors, adrenal tumors, and ectopic ACTH-producing tumors can also result in increased cortisol level, eventually leading to Cushing's syndrome. Majorly, the people aged 30–50 years are expected to develop the disease. Moreover, women are comparatively more susceptible to the disease than men.
Weight gain; a fatty hump between shoulders; a round face; wide purple stretch marks mainly on abdomen, breasts, hips, and under the arms; thin arms and legs; easy bruising; weak muscles; and increased fat around the base of neck are some of the common symptoms of the disease. The disease can be diagnosed through 24-hour urinary free-cortisol test, low-dose dexamethasone suppression test (LDDST), late-night salivary cortisol test, and dexamethasone–CRH test.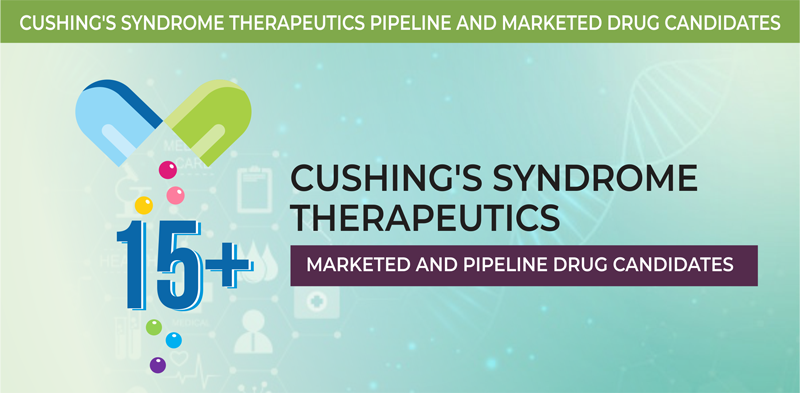 Cushing's syndrome can be managed or treated by reducing the use of corticosteroids, surgery, radiation therapy, and medications. A number of drug manufacturers are actively involved in the development of Cushing's syndrome therapeutics. For instance, Korlym (Corcept Therapeutics Incorporated) and Signifor (Novartis AG) are the two drugs approved by the United States Food and Drug Administration (USFDA) for the treatment of Cushing's syndrome.
Positive clinical trial results and adoption of collaboration strategies are enhancing Cushing's syndrome therapeutics pipeline. Moreover, the issuance of patents helps in achieving different milestones in the form of grants and designations from regulatory bodies and institutes, including the USFDA, the European Medicines Agency (EMA), and the National Institutes of Health (NIH).
Pipeline Analysis
As of September 2019, the Cushing's syndrome therapeutics comprised 15+ marketed and pipeline drugs.
Epidemiology Analysis
The report provides epidemiology forecast of Cushing's syndrome for seven major markets, such as the U.S., Japan, and EU5 countries (the U.K., Germany, France, Italy, and Spain). It covers prevalent population for the period 2016–2028. According to the American Association of Neurological Surgeons (AANS) 2019 factsheet, approximately 10–15 individuals per million population are affected by Cushing's syndrome, globally. Moreover, Cushing's syndrome majorly affects adults aged 20–50 years, and is more common in females, accounting for approximately 70% of all cases.
Competitive Landscape
Novartis AG, AstraZeneca PLC, Diurnal Group PLC, Corcept Therapeutics Incorporated, Crinetics Pharmaceuticals Inc., Strongbridge Biopharma plc, and Spruce Biosciences Inc. are some of the companies developing therapeutics for Cushing's syndrome.
Report Insights
Some highlights of the report "Cushing's Syndrome Therapeutics – Pipeline Analysis 2019, Clinical Trials and Results, Patents, Designations, Collaborations, and Other Developments" have been mentioned below:
Detailed pipeline analysis of therapeutic candidates that are being developed for the treatment of Cushing's syndrome, and estimates and analyses of emerging therapies and their progress status in different phases of development
Comprehensive insights into pipeline products, with special focus on strategic developments of key players, information on drug licensing, designations, financing, and grants, technological advancements, patents, and upcoming conferences
Competitive analysis and extensive information on monotherapies, combination therapies, targets and mechanisms of action, and drug origin with relevance to Cushing's syndrome
Epidemiology forecast of Cushing's syndrome for seven major markets, including the U.S., Japan, and EU5 countries
Analysis of marketed products for the treatment of Cushing's syndrome
Detailed regulatory framework for drug approval in the U.S., Europe, and Japan
Insights on the unmet medical needs
Attribute analysis and expected launch timeline of late-stage clinical drugs
Market size of Cushing's syndrome in 2018 and expected market share of late-stage clinical drugs by 2024
SWOT analysis
Key winning strategies of the companies involved in the development of Cushing's syndrome therapeutics, followed by Pharma Proff's views