Overview
Hereditary angioedema (HAE) results in excessive swelling of skin as well as mucous membrane. The disease majorly affects three parts of a body: skin, respiratory tract, and gastrointestinal tract. Symptoms of swelling can appear on various parts like lips, eyes, stomach, intestine, bladder, or upper airway obstruction. The symptoms get cured in a day or may take 2–4 days. There are various types of HAE being caused. Out of which, type I and type II are caused by C1NH gene (known as SERPING 1 gene), which is responsible for blocking the functions of proteins leading to inflammation. Whereas type III is expected to be caused as a result of F12 gene mutation, which has a role in blood clotting. The symptoms tend to occur in childhood and worsen with the onset of puberty.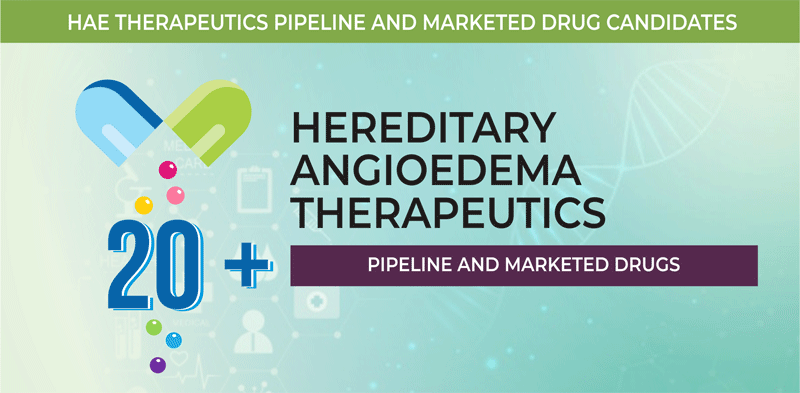 A number of drug manufacturers are involved in the development of HAE therapeutics. For instance, CINRYZE by ViroPharma Biologics Incorporated got approved in June 2018 for HAE.
Positive clinical trial results and adoption of collaboration strategies are enhancing HAE therapeutics pipeline. Moreover, the issuance of patents helps in achieving different milestones in the form of grants and designations from regulatory bodies and institutes, including the U.S. Food and Drug Administration (USFDA), the European Medicines Agency (EMA), and the National Institutes of Health (NIH), among others.
Pipeline Analysis
As of March 2019, the HAE therapeutics pipeline comprised 20+ drugs in different stages of development.
Epidemiology Analysis
The report provides epidemiology forecast of HAE for seven major markets, such as the U.S., Japan, and EU5 countries (the U.K., Germany, France, Italy, and Spain). It covers prevalent population and treated patient population for the period 2016–2028. There is an absence of concrete data on epidemiology of HAE, but according to a study conducted by the University of Texas Southwestern Medical Center, in 2018, HAE affected around 8,000 people in the U.S. and 15,000 people in Europe.
Competitive Landscape
Some of the key players involved in the development of HAE therapeutics are Pharming Group N.V., Alnylam Pharmaceuticals Inc., BioCryst Pharmaceuticals Inc., CSL Behring, Ionis Pharmaceuticals Inc., and Takeda Pharmaceutical Company Limited.
Report Insights
Some highlights of the report "Hereditary Angioedema (HAE) Therapeutics – Pipeline Analysis 2019, Clinical Trials and Results, Patents, Designations, Collaborations, and Other Developments" have been mentioned below:
Detailed pipeline analysis of therapeutic candidates that are being developed for the treatment of HAE, and estimates and analyses of emerging therapies and their progress status in different phases of development
Comprehensive insights into pipeline products, with special focus on strategic developments of key players, information on drug licensing, designations, financing, and grants, technological advancements, patents, and upcoming conferences
Competitive analysis and extensive information on monotherapies, combination therapies, targets and mechanisms of action, and drug origin with relevance to HAE
Epidemiology forecast of HAE for seven major markets, including the U.S., Japan, and EU5 countries
Analysis of marketed products for the treatment of HAE
Detailed regulatory framework for drug approval in the U.S., Europe, and Japan
Key winning strategies of the companies involved in the development of HAE therapeutics, followed by Pharma Proff's views