Overview
Phosphatidylinositol 3-kinase (PI3K) belongs to lipid kinases that has an important role in cell signaling. It acts as a mediator molecule in mTOR/AKT/PI3K signaling cascade. PI3K inhibitors are the drugs that inhibit PI3K enzymes, which play a vital role in the mTOR/AKT/PI3K signaling pathway.
Molecules targeting mTOR, AKT, and PI3K activate various pathways, including protein kinase B, Bruton's tyrosine kinase, and protein kinase C pathway, which result in survival and development of normal cells. Ongoing cancer studies have demonstrated that PI3K pathway is targeted either by germline or substantial mutations, thereby making it a prominent target for cancer therapeutics. The activity of PI3K is controlled by phosphatase and tensin homolog deleted from chromosome 10 (PTEN) in ordinary cells. In most of the cancers, there is dysregulation of the PI3K pathway. Loss of PTEN regulation, gene amplification in PI3Ks, and receptor tyrosine kinases (RTKs) mutation activation are some of the factors that are responsible for occurrence of cancer.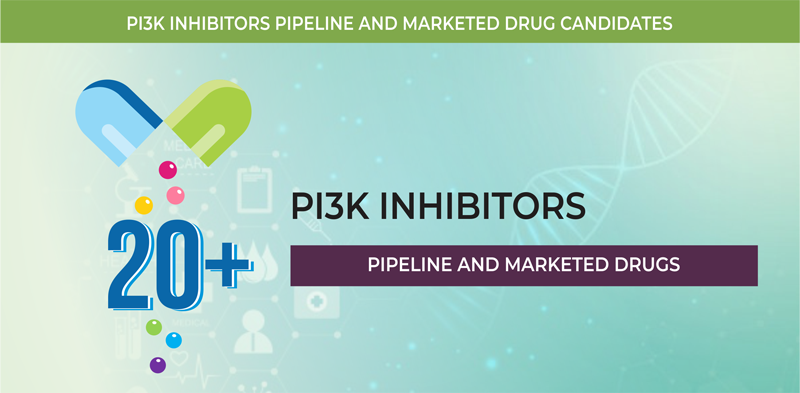 Zydelig (Gilead Sciences, Inc.), Aliqopa (Bayer AG), and Copiktra (Verastem Oncology) are some of the drugs that have been approved by the U.S. Food and Drug Administration (USFDA) and target the mTOR/AKT/PI3K signaling pathway. In spite of the drugs being available, the drug manufacturers are constantly working in the direction to obtain new treatment strategies by targeting PI3K receptor. The manufacturers are using different advanced technologies for the development of effective and better drugs.
Positive clinical trial results and strategic advancements are expected to drive the PI3K inhibitors pipeline. Moreover, the issuance of patents helps in achieving different milestones in the form of grants and designations from regulatory bodies and institutes, including the USFDA, the European Medicines Agency (EMA), and the National Institutes of Health (NIH).
Pipeline Analysis
As of March 2019, the PI3K inhibitors pipeline comprised 20+ drugs in different stages of development.
Competitive Landscape
Some of the companies involved in the development of PI3K inhibitors include Gilead Sciences Inc., Bayer AG, Verastem Oncology, Rhizen Pharmaceuticals S.A., TG Therapeutics Inc., Pfizer Inc., Novartis AG, and Shanghai Jiatan Pharmatech Co. Ltd.
Report Insights
Some highlights of the report "Phosphatidylinositol 3-Kinase (PI3K) Inhibitors ­– Pipeline Analysis 2019, Clinical Trials and Results, Patents, Designations, Collaborations, and Other Developments" have been mentioned below:
Detailed pipeline analysis of PI3K inhibitors, and estimates and analyses of emerging therapies and their progress status in different phases of development
Comprehensive insights into pipeline products, with special focus on strategic developments of key players, information on drug licensing, designations, financing, and grants, technological advancements, patents, and upcoming conferences
Competitive analysis and extensive information on monotherapies, combination therapies, targets and mechanisms of action, and drug origin with relevance to PI3K inhibitors
Detailed regulatory framework for drug approval in the U.S., Europe, and Japan
Key winning strategies of the companies involved in the development of PI3K inhibitors, followed by Pharma Proff's views