Overview
Systemic lupus erythematosus (SLE) is a chronic disease that leads to inflammation of cartilage and blood vessels. Some common symptoms of the disease include pain and swelling in joints, unexplained fever, sensitivity to sun, joints and muscle pain, swollen glands, and mouth ulcers. Various body organs, such as kidneys, lungs, and heart, get affected by SLE. The diagnosis of SLE is difficult as it cannot be detected by a single test, and the symptoms need to be put together to come to the conclusion of diagnosis. Antinuclear antibody (ANA) test, anticardiolipin antibody test, complete blood count, urinalysis, blood chemistries, and erythrocyte sedimentation rate (ESR) are some tests commonly practiced to diagnose the disease.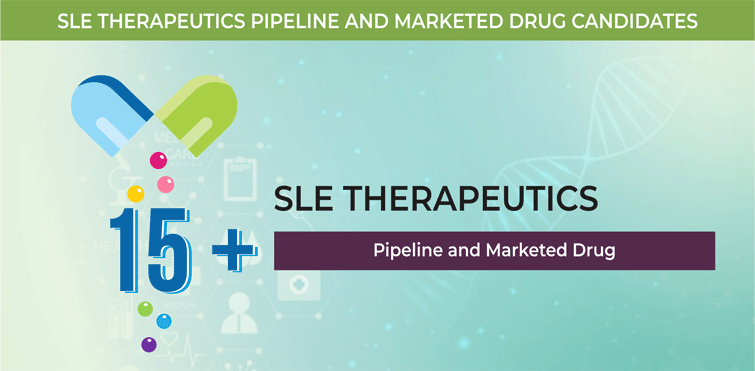 Moreover, there are various therapeutic candidates for SLE, such as nonsteroidal anti-inflammatory drugs (NSAIDs), corticosteroids, immunosuppressive, and methotrexate. There are certain kinds of triggers available for SLE, such as genetic (someone in family member affected by SLE in past) and environmental (ultraviolet rays, viruses, physical or emotional stress, trauma, and others). Benlysta (GlaxoSmithKline plc) is the only approved drug available for the treatment of SLE.
Positive clinical trial results, approval of drugs, and strategic decisions of companies for drug development in SLE pipeline are the major factors leading to the expansion of the market. Moreover, the issuance of patents helps in achieving different milestones in the form of grants and designations from regulatory bodies and institutes, including the United States Food and Drug Administration (USFDA), the European Medicines Agency (EMA), and the National Institutes of Health (NIH).
Pipeline Analysis
As of March 2019, the SLE therapeutic pipeline comprised 15+ drugs in different stages of development.
Epidemiology Analysis
The report provides epidemiology forecast of SLE for seven major markets, such as the U.S., Japan and EU5 countries (the U.K., Germany, France, Italy, and Spain). It covers prevalent population and treated patient population for the period 2016–2028. There have been various studies going on to understand the epidemiology of SLE. According to a study published in the journal, Rheumatology, in November 2017, the incidence of SLE is 23.2/100,000 person-years in North America, and 0.3/100,000 in Africa and Ukraine in 2017.
Competitive Landscape
Some of the key players involved in the development of drugs and therapies for SLE are Takeda Pharmaceutical Company Limited, Anthera Pharmaceuticals Inc., Genentech Inc., UCB Biopharma SPRL, Merck & Co. Inc., Ablynx, and GlaxoSmithKline plc.
Report Insights
Some highlights of the report "Systemic Lupus Erythematosus (SLE) Therapeutics – Pipeline Analysis 2019, Clinical Trials and Results, Patents, Designations, Collaborations, and Other Developments" have been mentioned below:
Detailed pipeline analysis of therapeutic candidates that are being developed for the treatment of SLE, and estimates and analyses of emerging therapies and their progress status in different phases of development
Comprehensive insights into pipeline products, with special focus on strategic developments of key players, information on drug licensing, designations, financing, and grants, technological advancements, patents, and upcoming conferences
Competitive analysis and extensive information on monotherapies, combination therapies, targets and mechanisms of action, and drug origin with relevance to SLE
Epidemiology forecast of SLE for seven major markets, including the U.S., Japan, and EU5 countries
Analysis of marketed products for the treatment of SLE
Detailed regulatory framework for drug approval in the U.S., Europe, and Japan
Key winning strategies of the companies involved in the development of SLE therapeutics, followed by Pharma Proff's views