Overview
T-cell immunotherapy comprises T-cell receptor (TCR), tumor-infiltrating lymphocyte (TIL), and chimeric antigen receptor (CAR) T-cell therapy. TCR is an integral membrane protein that initiates T-cells response to an antigen. This protein is activated by major histocompatibility complex (MHC) molecules in the presence of an antigen. The T-cell activation initiates a series of signaling cascades that leads to cellular division, cytokine production, and cell differentiation. This cascade controls the T-cell proliferation, development, and activation, and is actively involved in the regulation of apoptosis.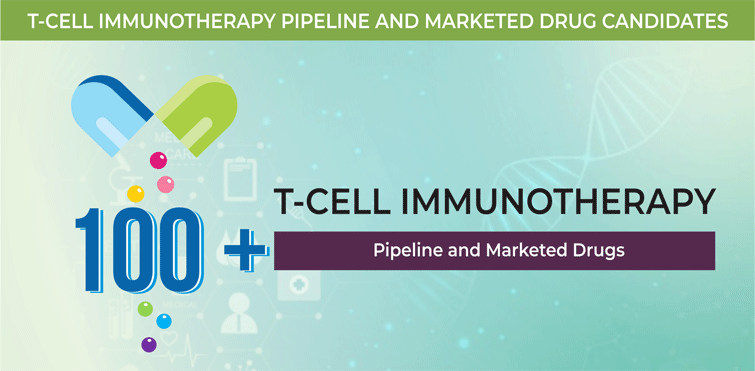 ILs refer to the autologous tumor infiltrating lymphocytes that are modified in vitro by recombinant deoxyribonucleic acid (rDNA) technology and are cultured with lymphokines, including interleukin-6 (IL-6), so that upon administration in patients, they re-infiltrate the tumor to initiate apoptosis of the cancer cells. The use of TILs as a therapeutic is considered as an adoptive immunotherapy.
CAR T-cell therapy is a procedure in which T-cells are collected via apheresis and genetically engineered in laboratory, by introducing DNA fragment of interest into them. This procedure leads to the formation of CAR on the surface of the cells. CARs are proteins that allow the T-cells to recognize an antigen on targeted tumor cells. These cells are then infused into the bloodstream of patients where they multiply. The modified T-cells now recognize and attack those cells that have the targeted antigen on their surface.
Kymriah (Novartis AG), Yescarta (Kite Pharma Inc.), and Actmera (F. Hoffmann-La Roche Ltd.) are some the T-cell immunotherapies that have been approved by the U.S. Food and Drug Administration (USFDA).
Positive clinical trial results and strategic advancements are expected to drive the global T-cell immunotherapy pipeline. Moreover, the issuance of patents helps in achieving different milestones in the form of grants and designations from regulatory bodies and institutes, including the USFDA, the European Medicines Agency (EMA), and the National Institutes of Health (NIH).
Pipeline Analysis
As of March 2019, the T-cell immunotherapy therapeutic pipeline comprised 100+ drugs in different stages of development.
Competitive Landscape
Some of the companies involved in the development of T-cell immunotherapy include Novartis AG, Kite Pharma Inc., F. Hoffmann-La Roche Ltd., GlaxoSmithKline plc, Iovance Biotherapeutics Inc., Celgene Corporation, AstraZeneca PLC, Merck & Co. Inc., Bristol-Myers Squibb Company, Pfizer Inc., Mustang Bio Inc., Horizon Discovery Group plc, Celyad SA, and Nanjing Legend Biotechnology Co. Ltd.
Report Insights
Some highlights of the report "T-Cell Immunotherapy ­– Pipeline Analysis 2019, Clinical Trials and Results, Patent, Designation, Collaboration, and Other Developments" have been mentioned below:
Detailed pipeline analysis of T-cell immunotherapies, and estimates and analyses of emerging therapies and their progress status in different phases of development
Comprehensive insights into pipeline products, with special focus on strategic developments of key players, information on drug licensing, designations, financing, and grants, technological advancements, patents, and upcoming conferences
Competitive analysis and extensive information on monotherapies, combination therapies, and targets and mechanisms of action
Analysis of marketed products
Detailed regulatory framework for drug approval in the U.S., Europe, and Japan
Key winning strategies of the companies involved in the development of T-cell immunotherapy products, followed by Pharma Proff's views