Overview
Allergies arise when the body's immune system overreacts to foreign substances (allergens), which are usually harmless. Allergies can be segmented into two types: immunoglobulin E (IgE) mediated and non-IgE mediated. In IgE mediated allergies, the body's immune system produces antibodies called IgE that react with certain allergens causing an allergic reaction. This reaction usually causes symptoms in the nose, lungs, throat, or on the skin. In non-IgE mediated allergies, components (apart from IgE antibodies) of the body's immune system react to certain allergens.
Some of the allergens that are responsible for causing majority of the allergic reactions include house dust mites (HDM), food (peanut, egg, milk, and shellfish), pollen (grass, ragweed, and birch), and insects. Furthermore, commonly occurring allergic conditions, arising due to contact with the above-mentioned allergens, include allergic rhinitis, allergic conjunctivitis, allergic asthma, and skin allergy.
Moreover, allergies due to food products, insect venom, or certain medications sometimes lead to an anaphylactic reaction, a medical emergency that may be life threatening. It happens when the allergic reaction starts affecting other parts of the body, such as digestive tract, airways, and cardiovascular system (heart and blood vessels). Typically, symptoms of allergies vary from runny or stuffy nose, coughing, sneezing, and breathing problems to watery eyes, itching, rashes, swollen mucous membranes, and gastrointestinal (stomach and bowel) problems.
A treatment known as allergen-specific immunotherapy helps in reducing sensitivity to some allergens in the long term. This treatment is provided at regular intervals by either injecting the allergen in the form of different formulations into the skin (subcutaneous) or placing it under the tongue (sublingual) for making the body resistant towards allergies. It takes about three to five years to complete allergen-specific immunotherapy treatment process. Allergy immunotherapy is mainly used for the treatment of allergies due to pollen (hay fever), dust mites, and insect venom. The marketed products that use this approach and widely prescribed to patients are SLITone, AVANZ, Alutard SQ, Staloral, Oralair, Venomil, Cedarcure, Pollinex, Actair, Oralvac, Grazax, Ragwitek, Itulazax, Alustal, Phostal, and Acarovac Plus.
Pipeline Analysis
As of December 2019, the allergy immunotherapy pipeline comprised 15 therapies in different clinical stages of development. Apart from these, the safety and efficacy studies of certain marketed therapies, which are currently prescribed as supportive or named patient product, are also being studied.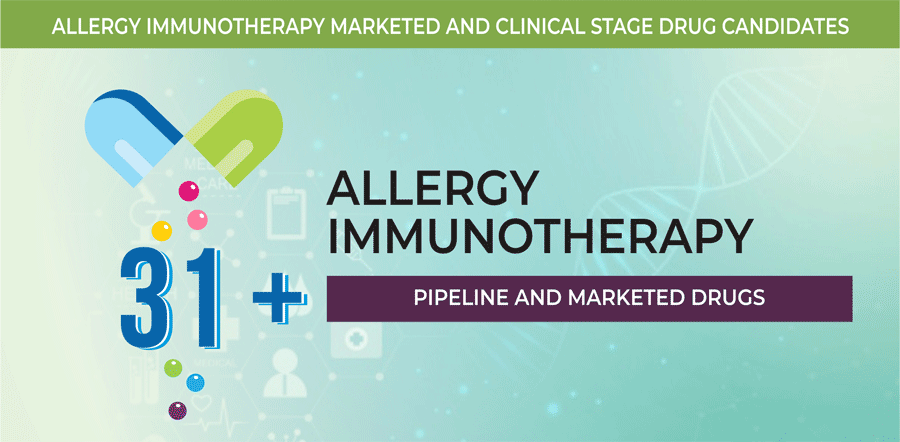 Epidemiology Analysis
Allergic diseases are common and usually start in childhood or puberty and often exist throughout the lifetime of an individual. As evident from various literatures, such as Gupta et al. [2019], Loh et al. [2018],and Passali et al. [2018], the prevalence of allergies is increasing over the period of time. Although, some allergies get better in adulthood, as in the case of certain food allergies. For example, milk or egg allergy may disappear, while others due to peanut may persist even during the older age. Based on the literatures, it has been observed that allergy symptoms are often mild at first and then become severe, over the time. Accurate diagnosis of triggering or causative allergens is essential for appropriate advice for avoidance and environmental control measures.
Considering the aforementioned facts for allergies, P&S epidemiology model for allergies takes prevalent population into consideration, which has further been segmented based on gender; age-group; severity (mild to moderate and severe); causative agent (primarily as food, pollen, insect, and HDM); and type of allergic condition (allergic rhinitis, allergic asthma, allergic conjunctivitis, and skin allergy).
As per the estimation of Pharma Proff, seven major markets (7MM), such as the U.S., Japan, and EU5 (Germany, France, the U.K., Italy, and Spain) accounted for more than 315 million patients with allergic diseases in 2018, which is expected to increase, at a CAGR of 3.1%, during the forecast period (2019–2030). The U.S. witnessed the highest prevalent population of allergic diseases, as compared to other 7MM, accommodating approximately 45% of total allergic cases, in 2018. In contrast, Spain witnessed the least number of cases with allergic diseases throughout the historical period and this trend is expected to be followed during the forecast period.
The gender-based epidemiology differences showed that the diseases being more prevalent in females as compared to males. Out of the total prevalent cases for allergic diseases, higher number of cases were observed in patients with mild-to-moderate symptoms. Further, on the basis of the causative allergens, it was assessed that allergic reaction to HDM was most prevalent, accounting for ~28% of the total allergic cases in 7MM, in 2018.
Competitive Landscape
The allergy immunotherapy market is primarily dominated by three key players, namely, Allergy Therapeutics Plc, ALK-Abelló A/S, and Stallergenes Greer Ltd. Some of the pharma companies, such as Aimmune Therapeutics Inc., DBV Technologies, Genentech Inc., ASIT Biotech, Inmunotek SL, Biomay A.G., Regeneron Pharmaceuticals Inc., and Anergis S.A., have immunotherapies in clinical stage of development, which are expected to drive the market forward in coming years.
Market Analysis
The allergy immunotherapy report helps to build the detailed understanding of the historical, current, and expected trends of the allergy immunotherapy market by analyzing the impact of currently prescribed therapies, unmet needs, and market dynamics. The current allergy immunotherapy market constitutes supportive as well as the previously mentioned marketed therapies and growth of market size is attributed to both these therapies and several emerging candidates. According to Pharma Proff views, the size of the allergy immunotherapy market in 7MM was more than $700 million in 2018. Furthermore, among the 7MM, the EU-5 countries accounted for highest market size. This is attributed to the fact that a greater number of therapies were approved in Europe as compared to other regions.
To meet the several unmet needs in this therapeutic area, such as cost of mismanagement of the disease, awareness of allergic problems, and unmet need of allergy immunotherapy trials, various companies have shifted their focus to this field. Taking these factors into consideration, the potential of the late-stage clinical therapies in the allergy immunotherapy market was analyzed.
Report Insights
Some highlights of the report "Allergy Immunotherapy — Pipeline Analysis, Epidemiology and Drug Forecasting" have been mentioned below:
Epidemiology forecast of allergic diseases in 7MM
Detailed pipeline analysis of therapeutic candidates that are being currently marketed, estimates and analyses of emerging therapies, and their progress status in different clinical phases of development
Comprehensive insights into pipeline products, with special focus on strategic developments of key players, information on drug licensing, designations, financing, and grants, technological advancements, patents, and upcoming conferences
Competitive analysis and extensive information on monotherapies, combination therapies, targets and mechanisms of action, and drug origin with relevance to allergies
Insights on the unmet medical needs
Detailed regulatory framework for drug approval in the U.S., Europe, and Japan
Key winning strategies of companies involved in the development of allergy immunotherapy, followed by Pharma Proff's views
Market size estimation and forecast of marketed and late-stage pipeline therapies during the study period (2014–2030)