Overview
Sjögren's syndrome is referred to a chronic, autoimmune disease characterized by lymphocytic infiltration of exocrine glands and epithelia that leads to symptoms such as dry eyes and dry mouth. Additionally, joint pain, swelling and stiffness, swollen salivary glands, skin rashes or dry skin, vaginal dryness, persistent dry cough, and prolonged fatigue are some other symptoms of the syndrome. The exact cause of the disease is unknown, but it seems to be related to both genetic and environmental factors. Apart from the infection by certain virus and bacteria, Sjögren's syndrome can also be caused due to some faulty or mutated genes.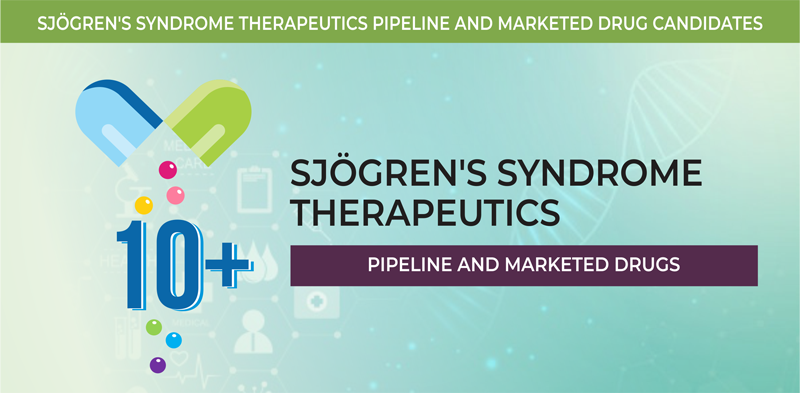 Some risk factors leading to the disease are age above 40 years and rheumatic diseases. In addition, women are at higher risk of developing the disease. Furthermore, dental cavities, vision impairment, and yeast infections are some other complications of the syndrome. There are certain general tests to diagnose Sjögren's syndrome, such as blood tests to check the presence of antibodies, eye test to check layer of tears, biopsy of a small lip tissue, and spit test to measure the amount of saliva produced.
A number of drug manufacturers are actively involved in the development of Sjögren's syndrome therapeutics. For instance, Salagen, developed by Pfizer Inc. and Exovac, developed by Daiichi Pharmaceutical Corporation are some of the prominent drugs approved by the U.S. Food and Drug Administration (USFDA) to cure the symptoms of Sjögren's syndrome.
Positive clinical trial results and adoption of collaboration strategies are enhancing Sjögren's syndrome therapeutics pipeline. Moreover, the issuance of patents helps in achieving different milestones in the form of grants and designations from regulatory bodies and institutes, including the USFDA, the European Medicines Agency (EMA), and the National Institutes of Health (NIH).
Pipeline Analysis
As of March 2019, the Sjögren's syndrome therapeutics pipeline comprised 10+ drugs in different stages of development.
Epidemiology Analysis
The report provides epidemiology forecast of Sjögren's syndrome for seven major markets, such as the U.S., Japan, and EU5 countries (the U.K., Germany, France, Italy, and Spain). It covers prevalent population and treated patient population for the period 2016–2028. According to a data published by NIH in July 2019, it is expected that 0.1–4% of the population in the world get affected by the disease. Additionally, women tend to develop this disease 10 times more than men.
Competitive Landscape
Some of the key players involved in the development of Sjögren's syndrome therapeutics are Kissei Pharmaceutical Co. Ltd., Daiichi Sankyo Company Limited, Pfizer Inc., Novartis AG, Protagen AG, Gilead Sciences Inc., GlaxoSmithKline plc, UCB Biopharma SPRL, Aldeyra Therapeutics, and Bristol-Myers Squibb Company.
Report Insights
Some highlights of the report "Sjögren's Syndrome Therapeutics ­– Pipeline Analysis 2019, Clinical Trials and Results, Patents, Collaborations, and Other Developments", have been mentioned below:
Detailed pipeline analysis of therapeutic candidates that are being developed for the treatment of Sjögren's syndrome, and estimates and analyses of emerging therapies and their progress status in different phases of development
Comprehensive insights into pipeline products, with special focus on strategic developments of key players, information on drug licensing, designations, financing, and grants, technological advancements, patents, and upcoming conferences
Competitive analysis and extensive information on monotherapies, combination therapies, targets and mechanisms of action, and drug origin with relevance to Sjögren's syndrome
Epidemiology forecast of Sjögren's syndrome for seven major markets, including the U.S., Japan, and EU5 countries
Analysis of marketed products for the treatment of Sjögren's syndrome
Detailed regulatory framework for drug approval in the U.S., Europe, and Japan
Key winning strategies of the companies involved in the development of Sjögren's syndrome therapeutics, followed by Pharma Proff's views