Rhinovirus Infection Therapeutics - Pipeline Overview
Rhinovirus infections, caused by the rhinoviruses, occurs in the upper or lower respiratory tracts. These infections are mostly acknowledged as 'common cold'; however, they can also lead to pneumonia, sore throats, sinus infections, ear infections, and bronchiolitis. The symptoms manifest after the incubation period of viruses (12-24 hours) and last till 7-11 days. The signs and symptoms of the infection include nasal irritation or dryness; headache; less sense of smell and taste; hoarseness; cough; fever; restlessness or irritability; facial and ear pressure; nasal congestion, sneezing, and nasal discharge; sore throat; and posttussive vomiting.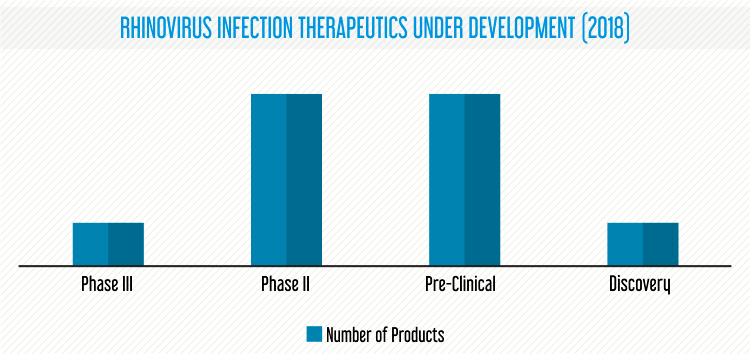 A number of drug candidates in the rhinovirus infection therapeutics pipeline are being developed using proprietary technologies of the companies, which enable targeted and specific delivery of drugs. For instance, Immune Dampening and Refocusing Technology developed by Biological Mimetics Inc., demonstrated a high potential in designing vaccines by minimizing limitations in the vaccine's development.
In addition, positive clinical trial results and strategic decisions of the company to collaborate with other companies and education institutions are also facilitating drug development in the pipeline. Furthermore, the issuance of patents helps in achieving different milestones in the form of grants and designations from the regulatory bodies and institutes including the U.S. Food and Drug Administration (USFDA), the European Medicines Agency (EMA), and the National Institutes of Health (NIH) among others.
Rhinovirus Infection Therapeutics - Pipeline Analysis
As of January 2019, the rhinovirus infection therapeutics pipeline comprises of 10 therapeutic candidates in different stages of development.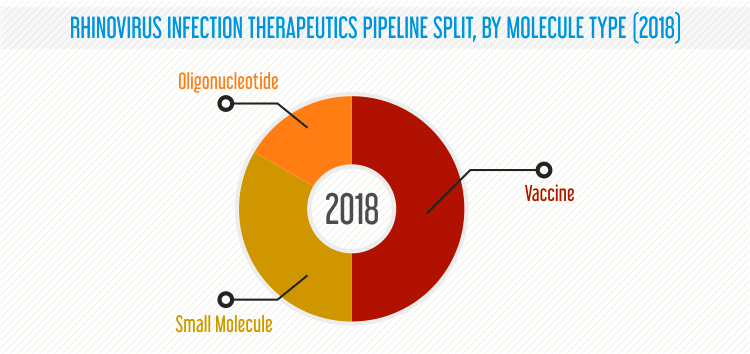 Rhinovirus Infection Therapeutics - Competitive Landscape
Some of the key players involved in the development of rhinovirus infection therapeutics in the late and mid stage include Romark L.C., Johnson & Johnson, Istari Oncology Inc., Merck & Co. Inc., and Vaxart Inc.
The report comprises of detailed pipeline analysis of rhinovirus infection therapeutics, analyzing the emerging therapies and their progress status in different phases of development. Comprehensive insights into the pipeline phase products have been provided with special focus on strategic development activities inclusive of collaboration and licensing information, drug designations, financing, grants, technological advancements, and patent. The report also contains competitive analysis and extensive information on monotherapies, combination therapies, targets and mechanism of action, and drug origin with relevance to rhinovirus infection therapeutics.