Overview
JE virus is one of the leading causes of vaccine-preventable encephalitis in the Western Pacific and Asia. It is characterized by inflammation in brain. Additional implications of the disease include headache, disorientation, high fever, coma, convulsions, and tremors.
JE is an insect-borne disease and spreads through mosquitoes, particularly Culex tritaeniorhynchus. So, the prevention from mosquitos' bites is the most common method to prevent JE from spreading. Furthermore, vaccines are also recommended for immunization against JE. A very low number, approximately <1% people suffering from JE infection develop clinical illness. The incubation period in individuals developing symptoms is 10–15 days. After this period, neurologic symptoms, weakness, and movement disorders may develop. There are currently no drugs available for the treatment of JE. Only symptomatic treatment is given to patients suffering from JE, and vaccines are available for immunization against the disease.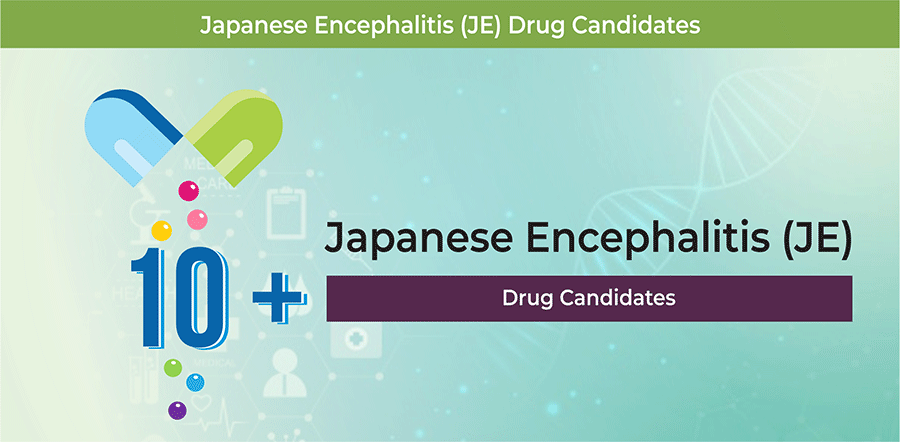 Jeev (Biological E. Limited), Jenvac (Bharat Biotech Ltd.), Ixiaro (Valneva SE), and Imojev (Sanofi-aventis Groupe) are some of the approved vaccines in the U.S., India, and Australia, respectively, for prophylaxis of JE; but till now no drug has been approved by the U.S. Food and Drug Administration (USFDA) for the treatment of JE.
Positive clinical trial results and strategic decisions of companies to collaborate with other companies are also facilitating drug development in JE therapeutics pipeline arena. Additionally, the issuance of patents helps in achieving different milestones in the form of grants and designations from regulatory bodies and institutes, including the USFDA, the European Medicines Agency (EMA), and the National Institutes of Health (NIH).
Pipeline Analysis
As of March 2019, JE therapeutics pipeline comprised 10+ therapeutic candidates in different stages of development.
Epidemiology Analysis
The report provides epidemiology forecast of JE for seven major markets, such as the U.S., Japan and EU5 countries (the U.K., Germany, France, Italy, and Spain). It covers prevalent population and treated patient population for the period 2016–2028. According to an article published in Theoretical Biology and Medical Modelling (BMC) in 2017, the world experiences 30,000–50,000 cases of JE per year.
Competitive Landscape
Some of the key players involved in the development of JE therapeutics in the late- and mid-stage include Biological E. Limited, Bharat Biotech Ltd., Valneva SE, Sanofi-aventis Groupe, Indian Immunologicals Ltd., Abivax SA, Ennaid Therapeutics LLC, and Kineta Inc.
Report Insights
Some highlights of the report "Japanese Encephalitis (JE) Therapeutics – Pipeline Analysis 2019, Clinical Trials and Results, Patents, Designations, Collaborations, and Other Developments" have been mentioned below:
Detailed pipeline analysis of therapeutic candidates that are being developed for the treatment of JE, and estimates and analyses of emerging therapies and their progress status in different phases of development
Comprehensive insights into pipeline products, with special focus on strategic developments of key players, information on drug licensing, designations, financing, and grants, technological advancements, patents, and upcoming conferences
Competitive analysis and extensive information on monotherapies, combination therapies, targets and mechanisms of action, and drug origin with relevance to JE
Epidemiology forecast of JE for seven major markets, including the U.S., Japan, and EU5 countries
Detailed regulatory framework for drug approval in the U.S., Europe, and Japan
Key winning strategies of the companies involved in the development of JE therapeutics, followed by Pharma Proff's views