Overview
Methicillin-resistant Staphylococcus aureus (MRSA) is an infection caused by Staphylococcus aureus (staph bacteria), a type of bacteria, which are resistant to several antibiotics and are able to survive in our body. Symptoms of MRSA infection can be mild, moderate, or severe depending on the affected area. In most cases, commonly occurring symptoms include sores or boils; serious skin infections; and infection in surgical wounds, bloodstream, lungs, or urinary tract.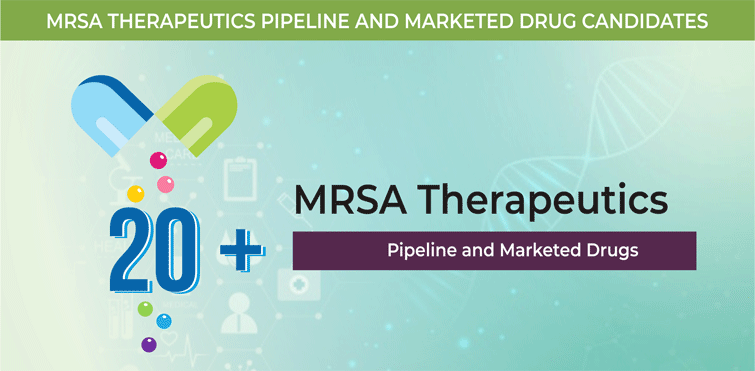 MRSA is contagious, and therefore can spread if one comes in contact with infected person. There are two kinds of MRSA: healthcare-associated MRSA (HA-MRSA) and community-associated MRSA (CA-MRSA). HA-MRSA can be acquired through surgeries, artificial joints, and intravenous tubing. Whereas, CA-MRSA can be spread through people's contact, and starts as a painful skin boil. Moreover, people working or living in crowded surroundings are at higher risk of developing the infection.
Some of the risk factors for MRSA include invasive medical devices, participating in sports requiring contact, living in crowded and non-sanitized surroundings, using intravenous drugs, and others.
A number of drug manufacturers are actively involved in the development of MRSA therapeutics. Some approved drugs for MRSA include Zyvox (Pfizer Inc.), Bactroban (GlaxoSmithKline plc), Baxdela (Melinta Therapeutics Inc.), and Teflaro (Allergan plc).
Positive clinical trial results and adoption of collaboration strategies are enhancing MRSA therapeutics pipeline. Moreover, the issuance of patents helps in achieving different milestones in the form of grants and designations from regulatory bodies and institutes, including the U.S. Food and Drug Administration (USFDA), the European Medicines Agency (EMA), and the National Institutes of Health (NIH), among others.
Pipeline Analysis
As of June 2019, the MRSA therapeutics pipeline comprised 20+ drugs in different stages of development.
Epidemiology Analysis
The report provides epidemiology forecast of MRSA for seven major markets, such as the U.S., Japan, and EU5 countries (the U.K., Germany, France, Italy, and Spain). It covers prevalent population and treated patient population for the period 2016–2028. According to a data published by the Centers for Disease Control and Prevention (CDC) in February 2019, around 5% of the U.S. individuals have MRSA.
Competitive Landscape
Some of the key players involved in the development of MRSA therapeutics include GlaxoSmithKline plc, Pfizer Inc., Crystal Genomics Inc., Melinta Therapeutics Inc., Allergan plc, The Medicines Company, and Innovation Pharmaceuticals Inc.
Report Insights
Some highlights of the report "Methicillin-resistant Staphylococcus aureus (MRSA) Therapeutics ­– Pipeline Analysis 2019, Clinical Trials and Results, Patents, Designations, Collaborations, and Other Developments" have been mentioned below:
Detailed pipeline analysis of therapeutic candidates that are being developed for the treatment of MRSA, and estimates and analyses of emerging therapies and their progress status in different phases of development
Comprehensive insights into pipeline products, with special focus on strategic developments of key players, information on drug licensing, designations, financing, and grants, technological advancements, patents, and upcoming conferences
Competitive analysis and extensive information on monotherapies, combination therapies, targets and mechanisms of action, and drug origin with relevance to MRSA
Epidemiology forecast of MRSA for seven major markets, including the U.S., Japan, and EU5 countries
Analysis of marketed products for the treatment of MRSA
Detailed regulatory framework for drug approval in the U.S., Europe, and Japan
Key winning strategies of the companies involved in the development of MRSA therapeutics, followed by Pharma Proff's views