Overview
Uveitis can be identified as a range of inflammatory conditions causing pain in the middle layer of the eye, uvea. However, it is not limited to uvea, but also affects retina, lens, optic nerve, and vitreous humor. Due to this disorder, eyes appear red and swollen. The disease can either reduce the vision or result in complete loss of vision. A number of ophthalmology-related disorders or inflammation in other parts of the body can cause uveitis. The disease is characterized by blurred vision, floating spots in the eye, redness, pain, and photophobia. Uveitis can be classified into four types depending on the part of uvea affected: anterior uveitis, intermediate uveitis, posterior uveitis, and pan-uveitis. Anterior uveitis, intermediate uveitis, and posterior uveitis lead to swelling of uvea near the front, middle, and toward the back of the eye, respectively; whereas pan-uveitis causes inflammation in all layers of the uvea.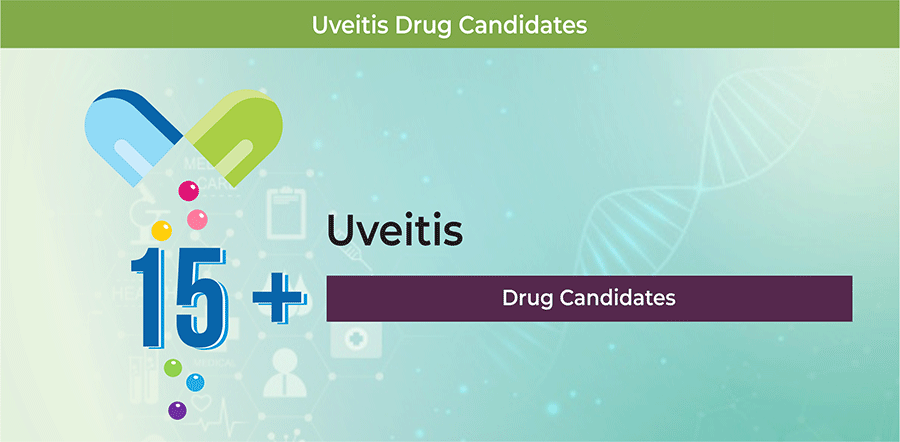 The disease can be diagnosed by performing several tests, including split lamp test, visual acuity test, fundoscopic exam, and ocular pressure test. Furthermore, the current line of treatment includes administration of steroidal anti-inflammatory medication, immunosuppressants, mydriatic eye drops, and antibiotics. Moreover, Humira (AbbVie Inc.), Kenalog-40 (Bristol-Myers Squibb Company), Ozudrex (Allergan Inc.), and Durezol (Novartis International AG) are amongst the U.S. Food and Drug Administration (USFDA) approved drugs for the treatment of uveitis.
Positive clinical trial results and strategic development activities of companies are also facilitating drug development in uveitis therapeutics pipeline. Additionally, the issuance of patents helps in achieving different milestones in the form of grants and designations from regulatory bodies and institutes, including the USFDA, the European Medicines Agency (EMA), and the National Institutes of Health (NIH), among others.
Pipeline Analysis
As of March 2019, the uveitis therapeutics pipeline comprised 15+ therapeutic candidates in different stages of development.
Epidemiology Analysis
The report also provides epidemiology forecast of uveitis for seven major markets, such as the U.S., Japan, and EU5 countries (the U.K., Germany, France, Italy, and Spain). It covers prevalent population and treated patient population for the period 2016–2028. According to a study published in the Indian Journal of Inflammation Research in 2017, the global prevalence of uveitis is 14–17 per 100,000 population.
Competitive Landscape
Some of the key players involved in the development of uveitis therapeutics include Panoptes Pharma Ges.m.b.H, Gilead Sciences Inc., Santen Pharmaceutical Co. Ltd., Aldeyra Therapeutics Inc., Novartis International AG, Bristol-Myers Squibb Company, AbbVie Inc., Allergan Inc., Bausch Health Companies Inc., Galapagos NV, NovelMed Inc., Mitotech, and Clearside Biomedical Inc.
Report Insights
Some highlights of the report "Uveitis Therapeutics – Pipeline Analysis 2019, Clinical Trials and Results, Patents, Designations, Collaborations, and Other Developments" have been mentioned below:
Detailed pipeline analysis of therapeutics candidates that are being developed for the treatment of uveitis, and estimates and analyses of emerging therapies and their progress status in different phases of development
Comprehensive insights into pipeline products, with special focus on strategic developments of key players, information on drug licensing, designations, financing, and grants, technological advancements, patents, and upcoming conferences
Competitive analysis and extensive information on monotherapies, combination therapies, targets and mechanisms of action, and drug origin with relevance to uveitis
Epidemiology forecast of uveitis for seven major markets, including the U.S., Japan, and EU5 countries
Analysis of marketed products for the treatment of uveitis
Detailed regulatory framework for drug approval in the U.S., Europe, and Japan
Key winning strategies of the companies involved in the development of uveitis therapeutics, followed by Pharma Proff's views