Overview
Retinitis pigmentosa (RP) can be identified as a range of genetic ophthalmic disorders that lead to breakdown and loss of cells in the retina. The disease is caused by mutation in genes, which encode for proteins required by cells within the retina. Some mutations in the genes are so severe that the genes cannot make the required proteins, thereby, limiting the cell functioning. Other mutations may produce proteins that are toxic to the cells. Also, in some cases, mutations may lead to the formation of an abnormal protein that does not function properly.
Symptoms of the disease include night blindness, progressive loss of the visual field, tunnel vision development, and complete blindness in rare cases. The disease can be diagnosed by performing tests, including electroretinogram (ERG) where the electrical activity of photoreceptors is observed, visual field testing to assess the extent of visual loss, and genetic testing to determine the type of mutation that has occurred in the genes.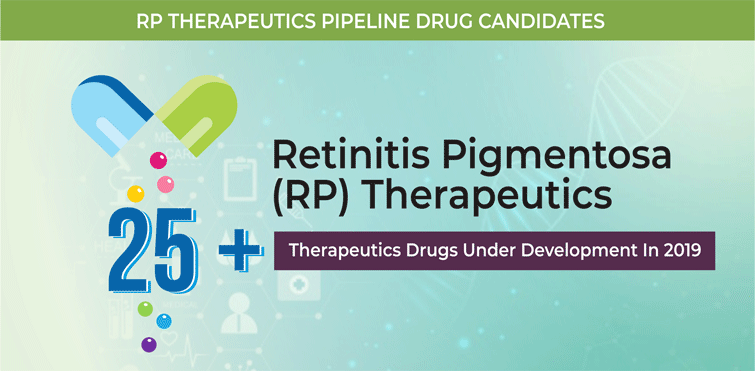 Some of the commonly used treatment options include retinal implant, increased intake of vitamin A palmitate, and acetazolamide medication. Moreover, Luxturna (Spark Therapeutics Inc.) is the only U.S. Food and Drug Administration (USFDA) approved therapy for the treatment of RP.
Positive clinical trial results and strategic decisions of companies to collaborate with other companies are facilitating drug development in RP therapeutics pipeline arena. Additionally, the issuance of patents helps in achieving different milestones in the form of grants and designations from regulatory bodies and institutes, including the USFDA, the European Medicines Agency (EMA), and the National Institutes of Health (NIH).
Pipeline Analysis
As of March 2019, the RP therapeutics pipeline comprised 25+ therapeutic candidates in different stages of development.
Epidemiology Analysis
The report provides epidemiology forecast of RP for seven major markets, such as the U.S., Japan, and EU5 countries (the U.K., Germany, France, Italy, and Spain). It covers prevalent population and treated patient population for the period 2016–2028. According to the National Organization for Rare Diseases (NORD) 2017 data, the global prevalence of RP was 1 per 4,000 population.
Competitive Landscape
Some of the key players involved in the development of RP therapeutics include Acucela Inc., HORAMA S.A., GenSight Biologics S.A., Novartis AG, Allergan Inc., Spark Therapeutics Inc., Sanofi-aventis Groupe, Ocugen Inc., Applied Genetic Technologies Corporation, Eyevensys, MeiraGTx Holdings plc, and Biogen Inc.
Report Insights
Some highlights of the report "Retinitis Pigmentosa (RP) Therapeutics – Pipeline Analysis 2019, Clinical Trials and Results, Patents, Designations, Collaborations, and Other Developments" have been mentioned below:
Detailed pipeline analysis of therapeutic candidates that are being developed for the treatment of RP, and estimates and analyses of emerging therapies and their progress status in different phases of development
Comprehensive insights into pipeline products, with special focus on strategic developments of key players, information on drug licensing, designations, financing, and grants, technological advancements, patents, and upcoming conferences
Competitive analysis and extensive information on monotherapies, combination therapies, targets and mechanisms of action, and drug origin with relevance to RP
Epidemiology forecast of RP for seven major markets, including the U.S., Japan, and EU5 countries
Analysis of marketed products for the treatment of RP
Detailed regulatory framework for drug approval in the U.S., Europe, and Japan
Key winning strategies of the companies involved in the development of RP therapeutics, followed by Pharma Proff's views