Overview
Presbyopia is an ophthalmic disorder, which develops with age, and affects the visual ability to see near objects clearly. Lens behind the iris helps in focusing on near as well as far objects by adjusting its shape. With the progressing age, the lens loses its flexibility, and becomes rigid.
Symptoms of the disease start to appear in the fourth decade of life, which is characterized with blurred vision, headaches, and eyestrain. Presbyopia may also result as a side-effect of certain medications including anti-depressants, diuretics, and anti-histamines. Moreover, diabetes, cardiovascular diseases, and multiple sclerosis also lead to the occurrence of presbyopia.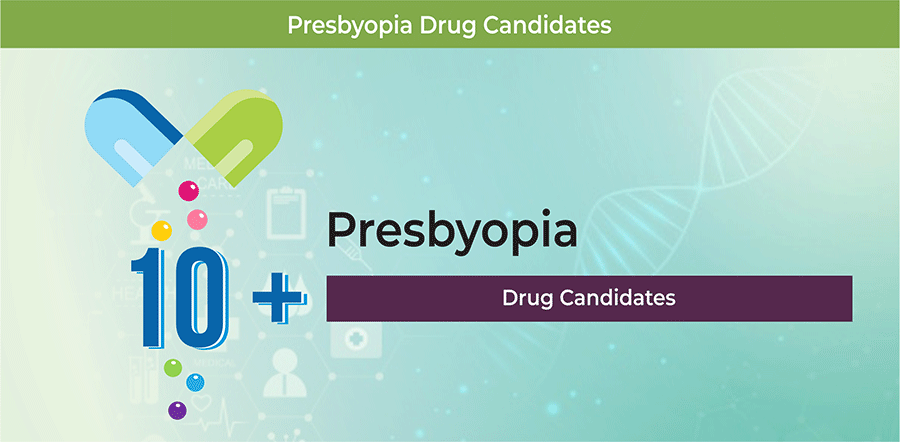 Presbyopia can be diagnosed thorough refraction assessment and eye examination. Wearing contact lenses, getting lens implants, refractive surgery, and wearing corrective eyeglasses are some of the symptomatic treatments for presbyopia. Bifocal, monovision, and multifocal are commonly used lenses for the management of presbyopia. Moreover, laser-assisted in situ keratomileusis (LASIK), conductive keratoplasty, laser-assisted subepithelial keratectomy (LASEK), and photorefractive keratectomy (PRK) are different types of refractive surgery, which are used to treat presbyopia.
Positive clinical trial results and strategic acquisition decisions of companies for drug development are major factors leading to the growth of presbyopia therapeutics pipeline. Additionally, approval and issuance of patents help in achieving different milestones in the form of grants and designations from regulatory bodies and institutes, including the United States Food and Drug Administration (USFDA), the European Medicines Agency (EMA), and the National Institutes of Health (NIH), among others.
Pipeline Analysis
As of March 2019, the presbyopia therapeutics pipeline comprises 10+ drugs in different stages of development.
Epidemiology Analysis
The report provides epidemiology forecast of presbyopia for seven major markets, such as the U.S., Japan, and EU5 countries (the U.K., Germany, France, Italy, and Spain). It covers prevalent population and treated patient population for the period 2016–2028. According to the American Academy of Ophthalmology (AAO), presbyopia affected approximately 25% of the global population in 2015.
Competitive Landscape
Novartis International AG, Presbyopia Therapies LLC, ViewPoint Therapeutics Inc., Allergan plc, and Cellix Biosciences Inc. are some of the key players involved in the development of drugs for presbyopia.
Report Insights
Some highlights of the report, "Presbyopia Therapeutics – Pipeline Analysis 2019, Clinical Trials & Results, Patents, Designations, Collaborations, and Other Developments", include:
Detailed pipeline analysis of therapeutic candidates, which being developed for the treatment of presbyopia, estimates and analyzes the emerging therapies and their progress status in different phases of development
Comprehensive insights into pipeline phase products, with special focus on strategic development activities, inclusive of collaboration and licensing information, drug designations, financing, grants, technological advancements, patents, and upcoming conferences
Competitive analysis and extensive information on monotherapies, combination therapies, targets and mechanism of action, and drug origin with relevance to presbyopia
Epidemiology forecast of presbyopia for seven major markets (referred to as 7MM in the report), which include the U.S., Japan, and EU5 countries
Detailed regulatory framework for drug approval in the U.S., Europe, and Japan
Key winning strategies of companies involved in the presbyopia therapeutics development, followed by Pharma Proff's views