Overview
Ulcerative colitis (UC) is a disease of colon or large intestine, which leads to inflammation of the colon and development of tiny sores that produce mucous or pus. The disease happens due to dysfunction of immune system. As a result of the response, white blood cells (WBCs) start reaching the large intestine lining, causing inflammation of the colon. Symptoms of the disease include loose or urgent bowel movements, abdominal cramps, bloody stools, and others. Family history is one of the significant risk factors for UC. The disease is non-contagious, whereas the exact reason of the disease is unknown.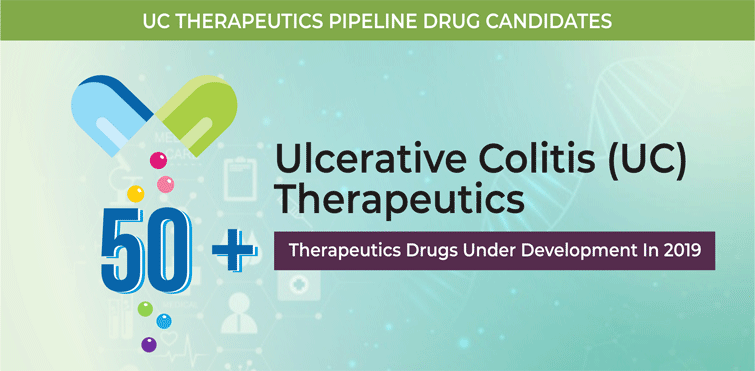 There are various treatment options available such as aminosalicylates, corticosteroids, immunosuppressants, and ciclosporin for the reduction of inflammation. An ultimate solution for the disease is surgery, but it is advised only under extreme conditions. In addition, Xeljanz (Pfizer Inc.), Simponi and Remicade (Janssen Biotech Inc.), and Entyvio (Takeda Pharmaceuticals Company Limited) are amongst the U.S. Food and Drug Administration (USFDA) approved medications for UC.
Positive clinical trial results and adoption of collaboration strategies are enhancing UC therapeutics pipeline. Moreover, the issuance of patents helps in achieving different milestones in the form of grants and designations from regulatory bodies and institutes, including the USFDA, the European Medicines Agency (EMA), and the National Institutes of Health (NIH), among others.
Pipeline Analysis
As of March 2019, the UC therapeutics pipeline comprised 50+ drugs in different stages of development.
Epidemiology Analysis
The report provides epidemiology forecast of UC for seven major markets, such as the U.S., Japan, and EU5 countries (the U.K., Germany, France, Italy, and Spain). It covers prevalent population and treated patient population for the period 2016–2028. As per an article published in the Journal of Value in Health in 2015, the incidence of disease was approximately 1.2–20.3 cases per 100,000 persons, whereas the prevalence ranged from 7.6 to 24.6 per 100,000 persons.
Competitive Landscape
Some of the key players involved in the development of UC therapeutics are Pfizer Inc., Takeda Pharmaceutical Company Limited, Seres Therapeutics Inc., Janssen Biotech Inc., Receptos Inc., EA Pharma Co. Ltd., Celgene Corporation, and InDex Pharmaceuticals AB.
Report Insights
Some highlights of the report "Ulcerative Colitis (UC) Therapeutics – Pipeline Analysis 2019, Clinical Trials and Results, Patents, Designations, Collaborations, and Other Developments" have been mentioned below:
Detailed pipeline analysis of therapeutic candidates that are being developed for the treatment of UC, and estimates and analyses of emerging therapies and their progress status in different phases of development
Comprehensive insights into pipeline products, with special focus on strategic developments of key players, information on drug licensing, designations, financing, and grants, technological advancements, patents, and upcoming conferences
Competitive analysis and extensive information on monotherapies, combination therapies, targets and mechanisms of action, and drug origin with relevance to UC
Epidemiology forecast of UC for seven major markets, including the U.S., Japan, and EU5 countries
Analysis of marketed products for the treatment of UC
Detailed regulatory framework for drug approval in the U.S., Europe, and Japan
Key winning strategies of the companies involved in the development of UC therapeutics, followed by Pharma Proff's views