Overview
Spinal muscular atrophy (SMA) is a rare inherited genetic disease that occurs due to loss of nerve cells, known as motor neurons. Motor neurons receive nerve impulses that are transmitted from brain to spinal cord, and further transmit these impulses to muscles with the help of peripheral nerves. Loss of motor neurons can lead to atrophy and weakness in the muscles, such as back, hips, and shoulders. SMA is mainly caused due to mutation in survival motor neuron 1 (SMN1) and SMN2 genes in chromosome. Also, any mutation in SMN1 gene can lead to SMA.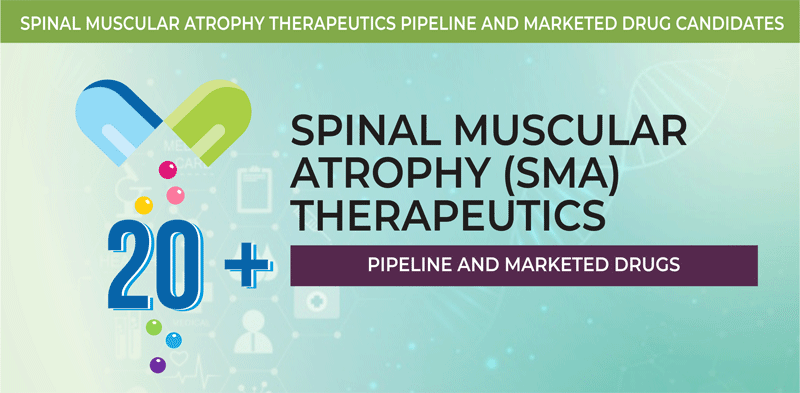 The disease is categorized into four types, namely type I, type II, type III, and type IV. SMA type I occurs mainly in infants aged between three months and six months. SMA types II and III are very severe type of SMA that affect infants aged between six months and two years. SMA type IV mainly affects adult population. Some of the symptoms associated with SMA are weakness in muscles, breathing difficulty, lack of head control, feeding difficulty, and floppy infant (poor muscle tone).
SMA is diagnosed through physical examination, blood test for an enzyme called creatine kinase (CK), and genetic testing. Besides, there is only one medication approved for the treatment of the disease, including Spinraza (Biogen Inc.), a SMN2-directed antisense oligonucleotide.
A number of drug manufacturers are actively involved in the development of SMA therapeutics. For instance, AveXis Inc. (Novartis AG) is developing AVXS-101, a gene therapy for the treatment of SMA type I. The results from the phase I trial of AVXS-101 in SMA type I patients showed that AVXS-101 was safe and well-tolerable.
Positive clinical trial results and adoption of collaboration strategies are enhancing SMA therapeutics pipeline. Moreover, the issuance of patents helps in achieving different milestones in the form of grants and designations from regulatory bodies and institutes, including the U.S. Food and Drug Administration (USFDA), the European Medicines Agency (EMA), and the National Institutes of Health (NIH), among others.
Pipeline Analysis
As of March 2019, the SMA therapeutics pipeline comprised 15+ drugs in different stages of development.
Epidemiology Analysis
The report provides epidemiology forecast of SMA for seven major markets, such as the U.S., Japan, and EU5 countries (the U.K., Germany, France, Italy, and Spain). It covers prevalent population and treated patient population for the period 2016–2028. According to the National Organization for Rare Disorders (NORD) 2012 data, the incidence of SMA is approximately 1 in 10,000 live births.
Competitive Landscape
Some of the key players involved in the development of SMA therapeutics are AveXis Inc. (Novartis AG), Biogen Inc., Cytokinetics Inc., F. Hoffman La-Roche Ltd., and WAVE Life Sciences Ltd.
Report Insights
Some highlights of the report "Spinal Muscular Atrophy (SMA) Therapeutics – Pipeline Analysis 2019, Clinical Trials and Results, Patents, Designations, Collaborations, and Other Developments" have been mentioned below:
Detailed pipeline analysis of therapeutic candidates that are being developed for the treatment of SMA, and estimates and analyses of emerging therapies and their progress status in different phases of development
Comprehensive insights into pipeline products, with special focus on strategic developments of key players, information on drug licensing, designations, financing, and grants, technological advancements, patents, and upcoming conferences
Competitive analysis and extensive information on monotherapies, combination therapies, targets and mechanisms of action, and drug origin with relevance to SMA
Epidemiology forecast of SMA for seven major markets, including the U.S., Japan, and EU5 countries
Analysis of marketed products for the treatment of SMA
Detailed regulatory framework for drug approval in the U.S., Europe, and Japan
Key winning strategies of the companies involved in the development of SMA therapeutics, followed by Pharma Proff's views