Overview
Rhabdomyosarcoma (RMS) is a rare type of cancer, mostly happening in soft tissues or hollow organs such as bladder or uterus. The disease affects children most of the times, and starts in head and neck area, urinary bladder, vagina, uterus or testes, arms, and legs. The prognosis of the disease is dependent on where it starts and tumor size. Symptoms of the disease also vary, depending on which body part it occurs. For instance, headache; bulging or swelling of eyes; bleeding in nose, throat, or ears in case the cancer is in neck or head. Whereas, if the cancer is in urinary or reproductive system, symptoms may include problem in urinating or blood in urine, trouble with bowel movements, and bleeding in vagina or rectum. Similarly, if the RMS is in arm or leg, symptoms may include pain in the affected area and swelling in the arm or leg.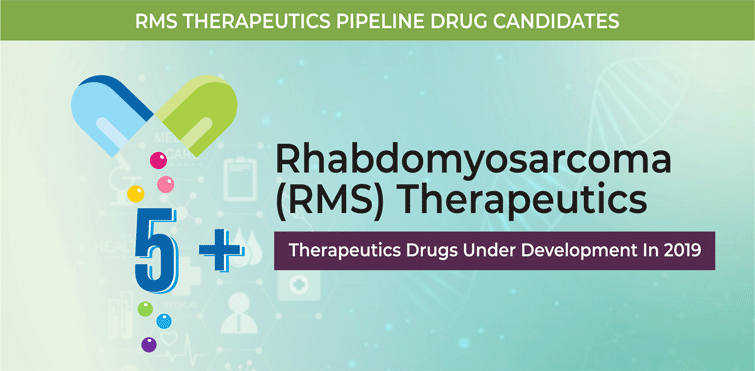 Moreover, risk factors associated with the disease are family history, or other genetic disorders such as neurofibromatosis, Li-Fraumeni syndrome, Beckwith-Wiedemann syndrome, or Costello syndrome.
RMS can be diagnosed by imaging tests, such as X-ray, magnetic resonance imaging (MRI), computed tomography (CT) scan, and bone scan, or by studying complete medical history of the patient. The treatment options include surgery, stem-cell transplantation, radiation therapy, and chemotherapy. In addition, Cosmegen (Ovation Pharmaceuticals Inc.) and VinCRIStine Sulfate (Hospira Inc.) are approved drugs by the United States Food and Drug Administration (USFDA) for the treatment of RMS.
Positive clinical trial results and strategic decisions of companies to collaborate with other companies are facilitating drug development in RMS therapeutics pipeline arena. Additionally, the issuance of patents helps in achieving different milestones in the form of grants and designations from regulatory bodies and institutes, including the USFDA, the European Medicines Agency (EMA), and the National Institutes of Health (NIH).
Pipeline Analysis
As of March 2019, the RMS therapeutics pipeline comprised 5+ drugs in different stages of development.
Epidemiology Analysis
The report provides epidemiology forecast of RMS for seven major markets, such as the U.S., Japan, and EU5 countries (the U.K., Germany, France, Italy, and Spain). It covers prevalent population and treated patient population for the period 2016–2028. According to the University of Minnesota, the incidence of RMS was 4.5 cases per 1 million children in 2009, and more than half of the cases occurred in first decade of life.
Competitive Landscape
Some of the key players involved in the development of RMS therapeutics are Taiwan Liposome Company Ltd., Ovation Pharmaceuticals Inc., Hospira Inc., F. Hoffmann-La Roche Ltd., Epizyme Inc., and Novartis AG.
Report Insights
Some highlights of the report "Rhabdomyosarcoma (RMS) Therapeutics – Pipeline Analysis 2019, Clinical Trials and Results, Patents, Designations, Collaborations, and Other Developments" have been mentioned below:
Detailed pipeline analysis of therapeutic candidates that are being developed for the treatment of RMS, and estimates and analyses of emerging therapies and their progress status in different phases of development
Comprehensive insights into pipeline products, with special focus on strategic developments of key players, information on drug licensing, designations, financing, and grants, technological advancements, patents, and upcoming conferences
Competitive analysis and extensive information on monotherapies, combination therapies, targets and mechanisms of action, and drug origin with relevance to RMS
Epidemiology forecast of RMS for seven major markets, including the U.S., Japan, and EU5 countries
Analysis of marketed products for the treatment of RMS
Detailed regulatory framework for drug approval in the U.S., Europe, and Japan
Key winning strategies of the companies involved in the development of RMS therapeutics, followed by Pharma Proff's views