Overview
MG is a neuromuscular disorder, which is characterized by muscle weakness and muscle fatigue. The disease becomes apparent during adulthood, but symptoms may occur at any age. The condition may be restricted to muscles of the eyes or may become more generalized, involving multiple muscle groups. People suffering from MG develop weakness and drooping of the eyelids, resulting in double vision, weakness of eye muscles, and excessive muscle fatigue followed by physical exertion. The weakness of jaw muscles causes difficulty in speaking and swallowing.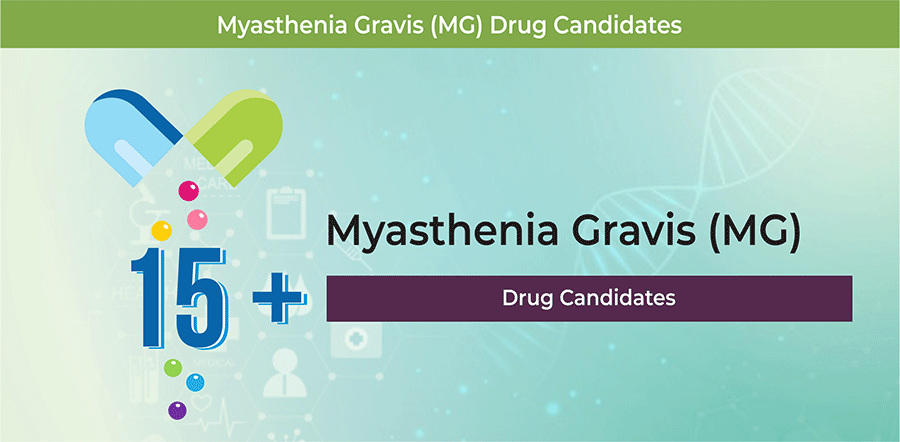 MG is caused by an immune reaction during which the body's immune defenses attack receptors in muscles that receive nerve impulses. Individuals with MG show abnormal autoimmune response resulting in a decreased number of acetylcholine receptors, causing failed nerve transmission at certain neuromuscular junctions. MG is diagnosed by clinical evaluation that detects characteristic symptoms, a detailed patient history, and a variety of specialized Tensilon test. Other diagnostic procedures include electromyography (EMG), a test that records electrical activity in skeletal muscles; computed tomography (CT) scan; and magnetic resonance imaging (MRI) scan of the muscles.
The available treatment options include administration of cholinesterase inhibitors, immunosuppressive therapy, corticosteroids, and physical therapy. In addition, Soliris (Alexion Pharmaceuticals Inc.) is the only approved drug by the U.S. Food and Drug Administration (USFDA) for the treatment of MG.
Positive clinical trial results and strategic decisions of companies to collaborate with other companies are also facilitating drug development in MG therapeutics pipeline arena. Additionally, the issuance of patents helps in achieving different milestones in the form of grants and designations from regulatory bodies and institutes, including the USFDA, the European Medicines Agency (EMA), and the National Institutes of Health (NIH).
Pipeline Analysis
As of March 2019, the MG therapeutics pipeline comprised 15+ therapeutic candidates in different stages of development.
Epidemiology Analysis
The report provides epidemiology forecast of MG for seven major markets, such as the U.S., Japan, and EU5 countries (the U.K., Germany, France, Italy, and Spain). It covers prevalent and treated patient population for the period 2016–2028. According to a study published in Neuroepidemioloy in 2015, the prevalence of MG in Europe is 77–317 per 100,000.
Competitive Landscape
Some of the key players involved in the development of MG therapeutics in the late- and mid-stage include Momenta Pharmaceuticals Inc., Immunovant Inc., Catalyst Pharmaceuticals Inc., Alexion Pharmaceuticals Inc., ARGENX SE, GlaxoSmithKline plc, Toleranzia AB, and Ra Pharmaceuticals Inc.
Report Insights
Some highlights of the report "Myasthenia Gravis (MG) Therapeutics – Pipeline Analysis 2019, Clinical Trials and Results, Patents, Designations, Collaborations, and Other Developments" have been mentioned below:
Detailed pipeline analysis of therapeutic candidates that are being developed for the treatment of MG, and estimates and analyses of emerging therapies and their progress status in different phases of development
Comprehensive insights into pipeline products, with special focus on strategic developments of key players, information on drug licensing, designations, financing, and grants, technological advancements, patents, and upcoming conferences
Competitive analysis and extensive information on monotherapies, combination therapies, targets and mechanisms of action, and drug origin with relevance to MG
Epidemiology forecast of MG for seven major markets, including the U.S., Japan, and EU5 countries
Analysis of marketed products for the treatment of MG
Detailed regulatory framework for drug approval in the U.S., Europe, and Japan
Key winning strategies of the companies involved in the development of MG therapeutics, followed by Pharma Proff's views