Overview
LSD refers to inherited metabolic disorders, which are characterized by enzyme deficiencies. Metachromatic leukodystrophy; Mucolipidosis types I, II/III, and IV; Mucopolysaccharide storage disease; Gaucher disease; Fabry disease; Niemann-Pick disease; Schindler disease types I and II; Tay Sachs disease; Pompe disease; and Sandhoff disease are some of the most common types of LSD. These diseases tend to affect various parts of the body such as central nervous system (CNS), skin, heart, and skeleton. Signs and symptoms vary from disease to disease in this group. Hepatomegaly, optic atrophy, and prenatal diagnosis are some of the common symptoms of this disorder.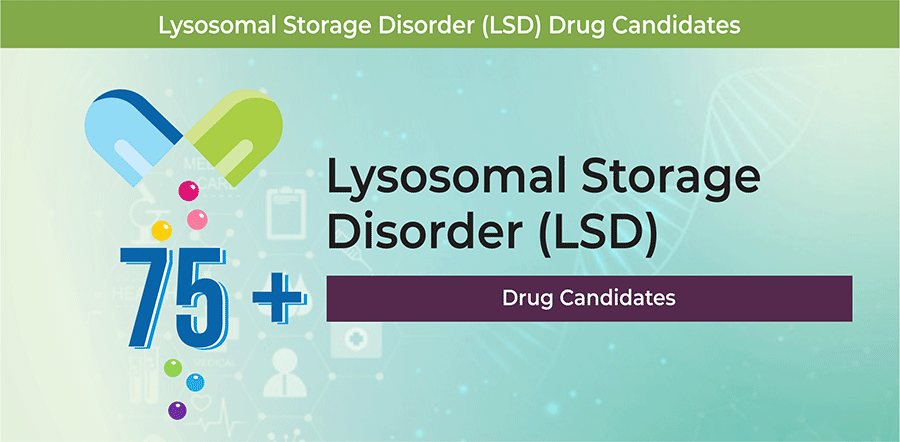 Early detection of LSD, before birth or just after the birth is possible by genetic screening of the individual and the family. LSD can be treated by bone marrow transplantation and enzyme replacement therapy (ERT). In addition, some of the U.S. Food and Drug Administration (USFDA) approved medications such as Ceredase (Sanofi-aventis Groupe) and Zavesca (Actelion Pharmaceuticals Ltd.) are used for the treatment of Gaucher disease type I; Aldurazyme (Sanofi-aventis Groupe) for the treatment of Mucopolysaccharide type I; and Fabrazyme (Sanofi-aventis Groupe) for Fabry disease.
Positive clinical trial results and strategic development activities of companies are also facilitating drug development in LSD therapeutics pipeline. Additionally, the issuance of patents helps in achieving different milestones in the form of grants and designations from regulatory bodies and institutes, including the USFDA, the European Medicines Agency (EMA), and the National Institutes of Health (NIH), among others.
Pipeline Analysis
As of March 2019, the LSD therapeutics pipeline comprised 75+ therapeutic candidates in different stages of development.
Epidemiology Analysis
The report provides epidemiology forecast of LSD for seven major markets, such as the U.S., Japan, and EU5 countries (the U.K., Germany, France, Italy, and Spain). It covers prevalent and treated patient population for the period 2016–2028. According to an article published in the Indian Pediatrics in 2015, the global prevalence rate of LSD is 1 per 8000 people.
Competitive Landscape
Some of the key players involved in the development of LSD therapeutics are Orchard Therapeutics Limited, Sanofi-aventis Groupe, Actelion Pharmaceuticals Ltd., Amicus Therapeutics Inc., Takeda Pharmaceutical Company Limited, Ultragenyx Pharmaceutical Inc., Valerion Therapeutics LLC, Actus Therapeutics Inc., Chiesi Farmaceutici S.p.A., Resverlogix Corp., Orphazyme A/S, Idorsia Pharmaceuticals Ltd., AVROBIO Inc., Mallinckrodt LLC, CTD Holdings Inc., and Protalix BioTherapeutics Inc.
Report Insights
Some highlights of the report "Lysosomal Storage Disorder (LSD) Therapeutics – Pipeline Analysis 2019, Clinical Trials and Results, Patents, Designations, Collaborations, and Other Developments" have been mentioned below:
Detailed pipeline analysis of therapeutic candidates that are being developed for the treatment of LSD, and estimates and analyses of emerging therapies and their progress status in different phases of development
Comprehensive insights into pipeline products, with special focus on strategic developments of key players, information on drug licensing, designations, financing, and grants, technological advancements, patents, and upcoming conferences
Competitive analysis and extensive information on monotherapies, combination therapies, targets and mechanisms of action, and drug origin with relevance to LSD
Epidemiology forecast of LSD for seven major markets, including the U.S., Japan, and EU5 countries
Analysis of marketed products for the treatment of LSD
Detailed regulatory framework for drug approval in the U.S., Europe, and Japan
Key winning strategies of the companies involved in the development of LSD therapeutics, followed by Pharma Proff's views