Overview
Diabetic foot ulcer is a serious condition that occurs due to diabetes. It can be defined as ulceration in foot along with neuropathy or peripheral artery disease of the lower limb in diabetic patients. Neuropathy has the highest effect on diabetic foot pathology, as it leads to sensory and autonomic dysfunction. Sensory dysfunction results in lack of protective sensation, which is a primary risk factor for ulcer development; whereas, autonomic dysfunction leads to drying of skin due to lack of normal glandular function. This results in increased mechanical and axial stress on skin that is more prone to injury due to drying. It has been observed that the majority of foot and lower leg amputations are performed on patients with diabetes mellitus.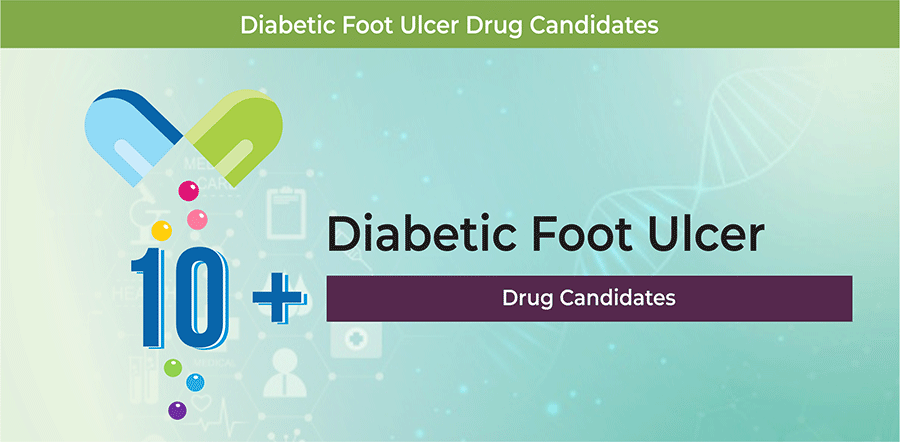 Some of the other risk factors associated with the disease include uncontrolled hyperglycemia, poor blood circulation, and nutrition. Diabetic angiopathy is another risk factor for developing diabetic foot ulcer and related infections.
According to Infectious Disease Society of America (IDSA) and the International Working Group on the Diabetic Foot (IWGDF), diagnosis and treatment of this disease varies based on its signs and symptoms. Diabetic foot ulcer can diagnose by physical examinations followed by radiography, magnetic resonance imaging (MRI), and bone scanning. Furthermore, diabetic foot ulcer can be treated either operative or non-operative procedure. Operative procedure includes ostectomy, Syme amputation, and partial calcanectomy; whereas, non-operative procedure includes wound care and total contact casting.
REGRANEX gel (Janssen Pharmaceuticals Inc.) has been approved for the treatment of lower extremity diabetic neuropathic ulcer. It contains becaplermin, a recombinant human platelet-derived growth factor (rhPDGF-BB) for topical administration.
A number of drug manufacturers are actively involved in the development of diabetic foot ulcer therapeutics. For instance, in June 2018, Remedor Biomed Ltd. completed phase II trials of a hydrogel containing erythropoietin to treat diabetic foot ulcer. Similarly, Charsire Biotechnology Corp., in collaboration with ASKLEP Inc., is conducting phase II studies to evaluate the efficacy and safety of CSTC1 in patients with diabetic foot ulcer.
Positive clinical trial results and adoption of collaboration strategies are enhancing diabetic foot ulcer therapeutics pipeline. Moreover, the issuance of patents helps in achieving different milestones in the form of grants and designations from regulatory bodies and institutes, including the U.S. Food and Drug Administration (USFDA), the European Medicines Agency (EMA), and the National Institutes of Health (NIH), among others.
Pipeline Analysis
As of March 2019, the diabetic foot ulcer therapeutics pipeline comprised 10+ drugs in different stages of development.
Epidemiology Analysis
The report provides epidemiology forecast of diabetic foot ulcer for seven major markets, such as the U.S., Japan, and EU5 countries (the U.K., Germany, France, Italy, and Spain). It covers prevalent population and treated patient population for the period 2016–2028. According to the prevalence data from the International Diabetes Federation, between 9.1 million to 26.1 million people with diabetes worldwide were affected by diabetic foot ulcers in 2015.
Competitive Landscape
Some of the key players involved in the development of diabetic foot ulcer therapeutics include GlaxoSmithKline plc, Destiny Pharma plc, FirstString Research Inc., RHEACELL GmbH & Co. KG, Charsire Biotechnology Corp., ASKLEP Inc., Remedor Biomed Ltd., Janssen Pharmaceuticals Inc., and Biotec Pharmacon ASA.
Report Insights
Some highlights of the report "Diabetic Foot Ulcer Therapeutics – Pipeline Analysis 2019, Clinical Trials and Results, Patents, Designations, Collaborations, and Other Developments" have been mentioned below:
Detailed pipeline analysis of therapeutic candidates that are being developed for the treatment of diabetic foot ulcer, and estimates and analyses of emerging therapies and their progress status in different phases of development
Comprehensive insights into pipeline products, with special focus on strategic developments of key players, information on drug licensing, designations, financing, and grants, technological advancements, patents, and upcoming conferences
Competitive analysis and extensive information on monotherapies, combination therapies, targets and mechanisms of action, and drug origin with relevance to diabetic foot ulcer
Epidemiology forecast of diabetic foot ulcer for seven major markets, including the U.S., Japan, and EU5 countries
Analysis of marketed products for the treatment of diabetic foot ulcer
Detailed regulatory framework for drug approval in the U.S., Europe, and Japan
Key winning strategies of the companies involved in the development of diabetic foot ulcer therapeutics, followed by Pharma Proff's views