Overview
Rise in level of cholesterol is referred as hyperlipidemia, which can be acquired or genetically inherited. There are two types of hyperlipidemia: hypertriglyceridemia (high blood level of triglycerides), and hypercholesterolemia (high blood cholesterol levels). The cholesterol that gets accumulated can come even from various food such as cheese, ice cream, egg yolks, red meat, and others. Cholesterol can accumulate in arteries, which can lead to difficulty in blood transportation and rise in blood pressure. The accumulation of blood can also lead to blood clot, which may result in heart attack.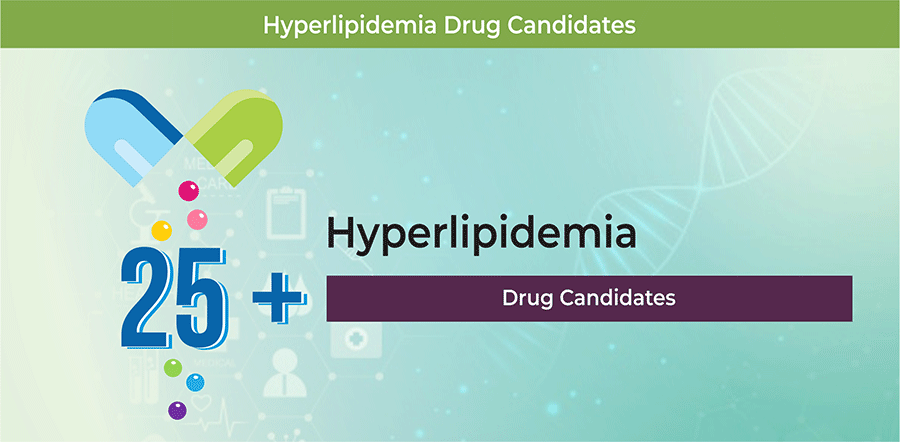 The diagnosis of this disorder can be through lipoprotein panel, which measures the accurate level of cholesterol. Exercise, healthy diet, and weight loss are some natural treatment of the disorder. Statins (prevent liver from making cholesterols), nicotinic acid (rises good cholesterol), fibrates, cholesterol absorption inhibitors, and resins are some medications available for the treatment of this medical disorder.
Lipitor and Caduet (Pfizer Inc.), Crestor (AstraZeneca plc), Repatha (Amgen Inc.), and Vyotrin (Merck & Co. Inc.) are some of the significant drugs approved by the U.S. Food and Drug Administration (USFDA). Out of these, Lipitor has been developed for lowering cholesterol level by catalyzing the conversion of β-Hydroxy β-methylglutaryl-CoA (HMG-CoA) to mevalonate through enzyme, which is an early and rate-limiting step in cholesterol biosynthesis. Additionally, Esperion Therapeutics Inc. announced positive top-line results of phase III pivotal trial for bempedoic acid in 2017, for patients who have high low-density lipoprotein (LDL) cholesterol (bad cholesterol).
Positive clinical trial results and adoption of collaboration strategies are enhancing hyperlipidemia therapeutics pipeline. Moreover, the issuance of patents helps in achieving different milestones in the form of grants and designations from regulatory bodies and institutes, including the USFDA, the European Medicines Agency (EMA), and the National Institutes of Health (NIH), among others.
Pipeline Analysis
As of March 2019, the hyperlipidemia therapeutics pipeline comprised 25+ drugs in different stages of development.
Epidemiology Analysis
The report provides epidemiology forecast of hyperlipidemia for seven major markets, such as the U.S., Japan, and EU5 countries (the U.K., Germany, France, Italy, and Spain). It covers prevalent and treated patient population for the period 2016–2028. The global data on prevalence or incidence of hyperlipidemia is not that concrete; but according to the American Journal of Managed Care, 53% of the total U.S. population was suffered from hyperlipidemia in 2017.
Competitive Landscape
Some of the key players involved in the development of hyperlipidemia therapeutics are Pfizer Inc., AstraZeneca plc, Novartis International AG, Amgen Inc., Arrowhead Pharmaceuticals Inc., Esperion Therapeutics Inc., Eli Lilly and Company, and Merck & Co. Inc.
Report Insights
Some highlights of the report "Hyperlipidemia Therapeutics – Pipeline Analysis 2019, Clinical Trials and Results, Patents, Designations, Collaborations, and Other Developments" have been mentioned below:
Detailed pipeline analysis of therapeutics candidates that are being developed for the treatment of hyperlipidemia, and estimates and analyses of emerging therapies and their progress status in different phases of development
Comprehensive insights into pipeline products, with special focus on strategic developments of key players, information on drug licensing, designations, financing, and grants, technological advancements, patents, and upcoming conferences
Competitive analysis and extensive information on monotherapies, combination therapies, targets and mechanisms of action, and drug origin with relevance to hyperlipidemia
Epidemiology forecast of hyperlipidemia for seven major markets, including the U.S., Japan, and EU5 countries
Analysis of marketed products for the treatment of hyperlipidemia
Detailed regulatory framework for drug approval in the U.S., Europe, and Japan
Key winning strategies of the companies involved in the development of hyperlipidemia therapeutics, followed by Pharma Proff's views.