Overview
Urinary tract infection (UTI) is an infection of bladder, urethra, ureter, and kidney. The most common symptom of the disease is burning sensation during urination. As a result of UTI, the lining of bladder and urethra becomes irritated and it causes redness and pain in belly as well as pelvic area. Some other symptoms of the disease include back pain and fever.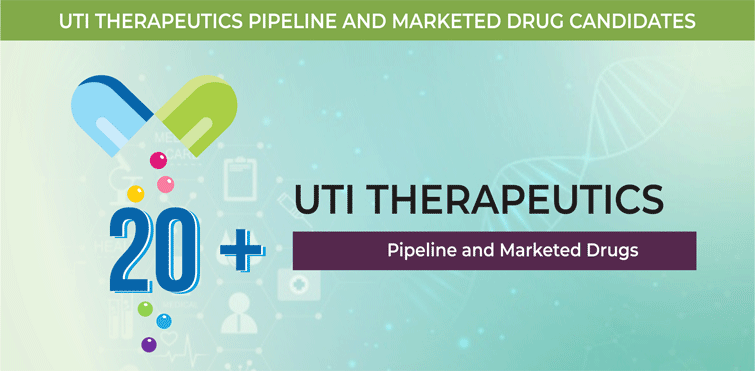 The occurrence of UTI in women is due to the growth of bacteria from bowel to bladder and urethra. Amongst men, the problem arises due to restriction of urine flow, due to various other diseases such as prostate enlargement. The infection can be diagnosed either by physical examination or urine tests. The remedy for UTI includes increase intake of fluids to flush out bacteria or antibiotics. Body factors, such as pre-menopause and inefficient immune system, are responsible for recurrent infections. There are two types of UTIs, such as simple UTI and complicated UTI, and the treatment of each UTI is different. For instance, simple UTI can be cured by short course of antibiotics, which may last for 3–5 days, whereas, complicated UTI is often treated by long course of antibiotics usually given intravenously.
A number of drug manufacturers are actively involved in the development of UTI therapeutics. For instance, Iterum Therapeutics plc initiated SURE 2 and SURE 3 phase three clinical trials of IV and Oral Sulopenem for complicated UTI in September 2018. Some of the U.S. Food and Drug Administration (USFDA) approved drugs to cure UTIs are Monurol (Zambon Switzerland Ltd.), Zemdri (Achaogen Inc.), and Avycaz (Allergan).
Positive clinical trial results and adoption of collaboration strategies are enhancing UTI therapeutics pipeline. Moreover, the issuance of patents helps in achieving different milestones in the form of grants and designations from regulatory bodies and institutes, including the USFDA, the European Medicines Agency (EMA), and the National Institutes of Health (NIH).
Pipeline Analysis
As of March 2019, the UTI therapeutics pipeline comprised 20+ drugs in different stages of development.
Epidemiology Analysis
The report provides epidemiology forecast of UTI for seven major markets, such as the U.S., Japan, and EU5 countries (the U.K., Germany, France, Italy, and Spain). It covers prevalent population and treated patient population for the period 2016–2028. According to an article published in International Journal of Current Microbiology and Applied Sciences in 2018, UTIs are expected to affect approximately 150 million people around the world every year. Additionally, 50% of women are affected by UTIs in their lifetime.
Competitive Landscape
Some of the key players involved in the development of UTIs therapeutics include AmpliPhi Biosciences Corporation, Achaogen Inc., Procter & Gamble, Fimbrion Therapeutics Inc., GlaxoSmithKline plc, Advancis Pharmaceutical Corporation, Paratek Pharmaceuticals Inc., Zambon Switzerland Ltd., Allergan plc, and Iterum Therapeutics Limited.
Report Insights
Some highlights of the report "Urinary Tract Infection (UTI) Therapeutics ­– Pipeline Analysis 2019, Clinical Trials and Results, Patents, Designations, Collaborations, and Other Developments" have been mentioned below:
Detailed pipeline analysis of therapeutic candidates that are being developed for the treatment of UTI, and estimates and analyses of emerging therapies and their progress status in different phases of development
Comprehensive insights into pipeline products, with special focus on strategic developments of key players, information on drug licensing, designations, financing, and grants, technological advancements, patents, and upcoming conferences
Competitive analysis and extensive information on monotherapies, combination therapies, targets and mechanisms of action, and drug origin with relevance to UTI
Epidemiology forecast of UTI for seven major markets, including the U.S., Japan, and EU5 countries
Analysis of marketed products for the treatment of UTI
Detailed regulatory framework for drug approval in the U.S., Europe, and Japan
Key winning strategies of the companies involved in the development of UTI therapeutics, followed by Pharma Proff's views