Overview
Prostatitis can be identified as an inflammatory condition causing pain in prostate gland. It is one of the most common problem related to urinary tract in men younger than 50 years. The disease is classified into four types: chronic pelvic pain syndrome (CPPS), acute bacterial prostatitis, chronic bacterial prostatitis, and asymptomatic prostatitis. Acute bacterial prostatitis is described as inflammation of the prostate gland caused by bacteria such as Escherichia coli and Klebsiella. Chronic bacterial prostatitis is the recurrent infection and inflammation of the prostate and urinary tract. Asymptomatic prostatitis is an uncommon type wherein the patient experiences an inflamed prostate without any bacterial infection, whereas CPPS, also called prostatodynia is defined as the occurrence of prostatitis symptoms, without inflammation or bacterial infections.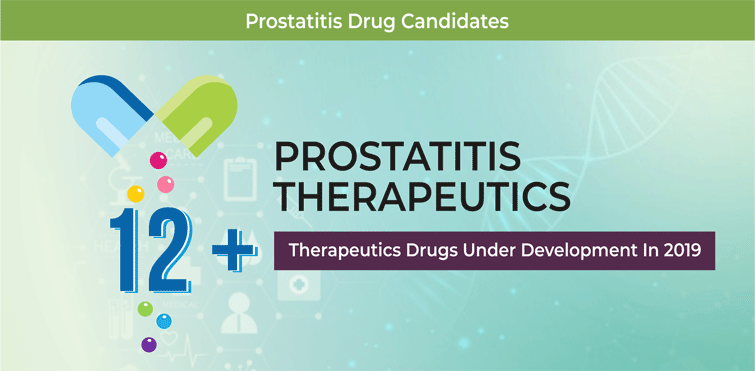 The four types show symptoms different form each other. For instance, the CPPS causes pain in penis, lower back, scrotum, central lower abdomen, and between scrotum and anus for more than three months. The acute bacterial prostatitis causes fever, chills, burning sensation during urination, urinary blockage, nausea, and vomiting. Chronic bacterial prostatitis causes pain in bladder, testicles, and penis, and between sex organs and anus, and change in urinary frequency. Asymptomatic prostatitis is an inflammation of the prostate and does not cause symptoms.
The disease can be diagnosed by performing tests, including digital rectal exam (DRE), prostate-specific antigen (PSA) blood test, and cystoscopy and urodynamic tests, followed by computed tomography (CT) or magnetic resonance imaging (MRI) scan. Some of the treatment options include medications, lifestyle changes, and acupuncture. Moreover, Geocillin (Pfizer Inc.), Floxin (Ortho-McNeil-Janssen Pharmaceuticals Inc.), and Levaquin (Janssen Pharmaceuticals Inc.) are some drugs used for the treatment of acute bacterial prostatitis and chronic bacterial prostatitis.
Positive clinical trial results and strategic development activities of companies are facilitating drug development in the ALS therapeutics pipeline arena. Additionally, the issuance of patents helps in achieving different milestones in the form of grants and designations from regulatory bodies and institutes, including the U.S. Food and Drug Administration (USFDA), the European Medicines Agency (EMA), and the National Institutes of Health (NIH), among others.
Pipeline Analysis
As of March 2019, the prostatitis therapeutics pipeline comprised 12+ therapeutic candidates in different stages of development.
Epidemiology Analysis
The report provides epidemiology forecast of prostatitis for seven major markets, such as the U.S., Japan and EU5 countries (the U.K., Germany, France, Italy, and Spain). It covers prevalent population and treated patient population for the period 2016–2028. According to a study published in Indian Journal of Inflammation Research in 2017, the global prevalence of prostatitis was 14–17 per 100,000 population.
Competitive Landscape
Some of the key players involved in the development of prostatitis therapeutics include Aquinox Pharmaceuticals Inc., AbbVie Inc., Pfizer Inc., Kissei Pharmaceutical Co. Ltd., Janssen Pharmaceuticals Inc., Merck & Co. Inc., Santen Pharmaceutical Co. Ltd., Aldeyra Therapeutics Inc., Ortho-McNeil-Janssen Pharmaceuticals Inc., GlaxoSmithKline plc, Mallinckrodt LLC, and Novartis AG.
Report Insights
Some highlights of the report "Prostatitis Therapeutics – Pipeline Analysis 2019, Clinical Trials and Results, Patents, Designations, Collaborations, and Other Developments" have been mentioned below:
Detailed pipeline analysis of therapeutic candidates that are being developed for the treatment of prostatitis, and estimates and analyses of emerging therapies and their progress status in different phases of development
Comprehensive insights into pipeline products, with special focus on strategic developments of key players, information on drug licensing, designations, financing, and grants, technological advancements, patents, and upcoming conferences
Competitive analysis and extensive information on monotherapies, combination therapies, targets and mechanisms of action, and drug origin with relevance to prostatitis
Epidemiology forecast of prostatitis for seven major markets, including the U.S., Japan, and EU5 countries
Analysis of marketed products for the treatment of prostatitis
Detailed regulatory framework for drug approval in the U.S., Europe, and Japan
Key winning strategies of the companies involved in the development of prostatitis therapeutics, followed by Pharma Proff's views