Overview
Polycystic kidney disease (PKD) is a genetic disease that causes cysts to develop in kidney. These cysts are filled with fluid and lead to enlargement of kidney and subsequent loss of its functioning, which eventually causes kidney failure. The disease is of two types, autosomal dominant and autosomal recessive. This chronic kidney condition can cause other complications such as cysts in liver, high blood pressure, and problems in brain and heart. The proteins produced by the PKD1, PKD2, and PKHD1 genes promote normal kidney development, organization, and function. Therefore, spontaneous mutations in these genes can cause PKD.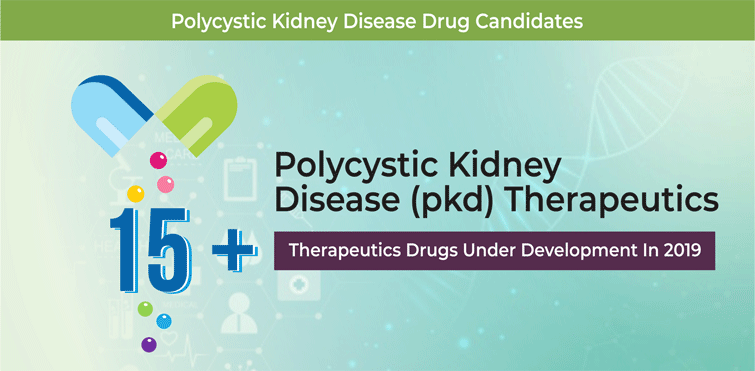 The disease can be diagnosed by abdominal ultrasound, computed tomography (CT) scan, magnetic resonance imaging (MRI) scan, and intravenous pyelogram. As per the current scenario, the treatment for PKD focuses on treating the symptoms and avoiding complications. There are variety of options available for the treatment of PKD, such as medication for pain, blood pressure medications, antibiotics to treat urinary tract infections (UTIs), low-sodium diet, diuretics, and surgery to drain cysts.
Moreover, a number of drug manufacturers are actively involved in the development of PKD therapeutics. For instance, in April 2018, Otsuka Holdings Co. Ltd. got the U.S. Food and Drug Administration (USFDA) approval for Jynarque, as a therapeutic agent to slow down the degradation of kidney associated with PKD.
Positive clinical trial results and adoption of collaboration strategies are enhancing PKD therapeutics pipeline. Moreover, the issuance of patents helps in achieving different milestones in the form of grants and designations from regulatory bodies and institutes, including the USFDA, the European Medicines Agency (EMA), and the National Institutes of Health (NIH), among others.
Pipeline Analysis
As of March 2019, the PKD therapeutics pipeline comprised 15+ drugs in different stages of development.
Epidemiology Analysis
The report provides epidemiology forecast of PKD for seven major markets, such as the U.S., Japan, and EU5 countries (the U.K., Germany, France, Italy, and Spain). It covers prevalent population and treated patient population for the period 2016–2028. According to an article published by the PKD International (PKDI) in 2018, autosomal dominant polycystic kidney disease (ADPKD) which is the most common hereditary kidney disease, affects over 12 million people worldwide. It has been estimated that between 1 in every 400 to 2,500 people has PKD.
Competitive Landscape
Some of the key players developing drugs for the treatment of PKD include Otsuka Holdings Co. Ltd., Exelixis Incorporated, Palladio Biosciences, XORTX Pharma Corp., and Reata Pharmaceuticals Inc.
Report Insights
Some highlights of the report "Polycystic Kidney Disease (PKD) Therapeutics – Pipeline Analysis 2019, Clinical Trials and Results, Patents, Designations, Collaborations, and Other Developments" have been mentioned below:
Detailed pipeline analysis of therapeutic candidates that are being developed for the treatment of PKD, and estimates and analyses of emerging therapies and their progress status in different phases of development
Comprehensive insights into pipeline products, with special focus on strategic developments of key players, information on drug licensing, designations, financing, and grants, technological advancements, patents, and upcoming conferences
Competitive analysis and extensive information on monotherapies, combination therapies, targets and mechanisms of action, and drug origin with relevance to PKD
Epidemiology forecast of MG for seven major markets, including the U.S., Japan, and EU5 countries
Analysis of marketed products for the treatment of PKD
Detailed regulatory framework for drug approval in the U.S., Europe, and Japan
Key winning strategies of the companies involved in the development of PKD therapeutics, followed by Pharma Proff's views