Overview
AKI or acute kidney failure is a condition which occurs due to sudden injury in kidneys and results in the minor or complete loss of their function. The causes of AKI can be divided into three categories: prerenal, intrinsic, and postrenal. Prerenal AKI is caused by decreased renal perfusion which is typically volume related. Whereas, intrinsic AKI is characterized according to the structural component of the kidney which is affected by the histologic injury. Postrenal AKI results from obstruction of the urinary system. Some of the symptoms associated with disease progression, include nausea and vomiting, confusion, dehydration, abdominal pain, rise in blood pressure, mild back pain, and accumulation of fluid in the body (edema).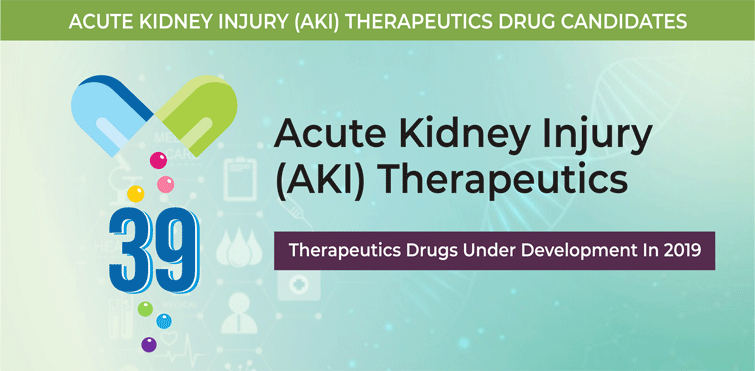 The diagnosis of AKI is traditionally based on a rise in serum creatinine level and/or fall in urine output. Imaging techniques including renal ultrasonography is also used to diagnose AKI. Medications, such as nonsteroidal anti-inflammatory drugs (NSAIDs), calcineurin inhibitors, and sulfonamide antibiotics, are the risk factors of AKI. Patients with AKI generally should be hospitalized unless the condition is mild. AKI is managed through restoration of renal blood flow and discontinuation of medications associated with nephrotoxicity.
A number of drug manufacturers are actively involved in the development of AKI therapeutics. For instance, Quark Pharmaceuticals Inc. is developing teprasiran (QPI-1002), which is currently in the Phase III stage of development, for the treatment of AKI. The results of the Phase II study showed that QPI-1002 treatment significantly reduced the incidence of AKI. Also, QPI-1002 appeared to be well tolerated in the study.
Positive clinical trial results and adoption of collaboration strategies are enhancing AKI therapeutics pipeline. Moreover, the issuance of patents helps in achieving different milestones in the form of grants and designations from the regulatory bodies and institutes, including the U.S. Food and Drug Administration (FDA), the European Medicines Agency (EMA), and the National Institutes of Health (NIH), among others. For instance, recombinant alkaline phosphatase (recAP) enzyme being developed by AM-Pharma B.V. has been granted Fast-Track Designation from the US FDA for the treatment of AKI.
Pipeline Analysis
As of June 2019, the AKI therapeutics pipeline comprised 39 drugs in different stages of development.
Epidemiology Analysis
The report provides hospital-acquired epidemiology forecast of AKI for seven major markets (7MM), which includes the U.S., Japan, and EU5 countries (the U.K., Germany, France, Italy, and Spain). It covers incident population for the period 2016–2028. According to an article published in American Journal of Kidney Diseases 2018, globally, 5-10% of hospitalized patients and up to 60% of patients admitted to the intensive care unit (ICU) developed AKI.
Competitive Landscape
Some of the key players involved in the development of AKI therapeutics are A1M Pharma AB, CSL Behring LLC, Sinovant Sciences HK Limited, Quark Pharmaceuticals Inc., Sentien Biotechnologies Inc., AM-Pharma B.V., and Angion Biomedica Corp.
Report Insights
Some highlights of the report "Acute Kidney Injury (AKI) Therapeutics – Pipeline Analysis 2019, Clinical Trials and Results, Patents, Designations, Collaborations, and Other Developments" have been mentioned below:
Detailed pipeline analysis of therapeutic candidates that are being developed for the treatment of AKI, and estimates and analyses of emerging therapies and their progress status in different phases of development
Comprehensive insights into pipeline products, with special focus on strategic developments of key players, information on drug licensing, designations, financing, and grants, technological advancements, patents, and upcoming conferences
Competitive analysis and extensive information on monotherapies, combination therapies, targets and mechanisms of action, and drug origin with relevance to AKI
Epidemiology forecast of hospital-acquired AKI for 7MM, including the U.S., Japan, and EU5 countries
Detailed regulatory framework for drug approval in the U.S., Europe, and Japan
Key winning strategies of the companies involved in the development of AKI therapeutics, followed by Pharma Proff's views