Overview
Hyperhidrosis is a condition in which a person starts sweating excessively. People suffering from hyperhidrosis experience excessive sweating from their palms, heads, feet, or underarms. Hyperhidrosis is of two types: primary hyperhidrosis and secondary hyperhidrosis. Primary hyperhidrosis occurs when a person is in adolescent stage; while, the secondary hyperhidrosis occurs due to an underlying medical condition. Anxiety, embarrassment, gout, menopause, and obesity are some of the key factors that can cause hyperhidrosis.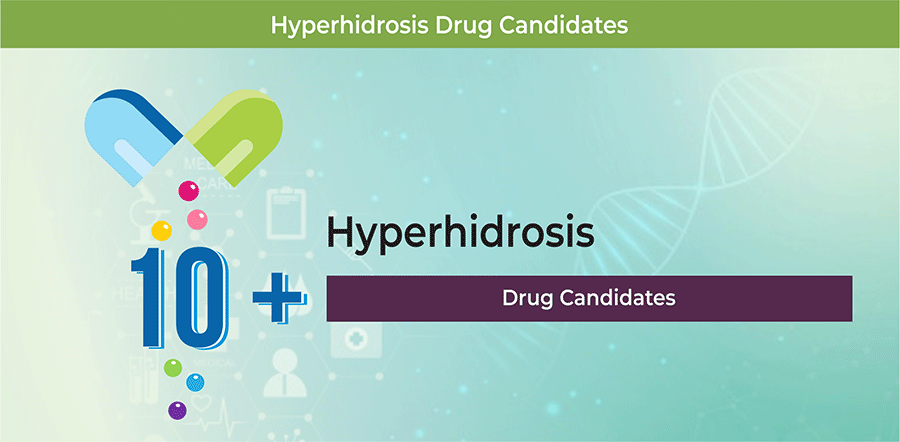 Hyperhidrosis can be detected by dermatologist by physical examination of the excessively sweating body parts and by conducting a sweat test. The available treatment options for hyperhidrosis include antiperspirants, iontophoresis, Botulinum toxin injections, prescription medicines, and surgeries (for severe cases). Botox injection by Allergan plc and Qbrexza by Dermira Inc. are the approved drugs for the treatment of hyperhidrosis.
Positive clinical trial results and strategic decisions of companies to collaborate with other companies are also facilitating drug development in hyperhidrosis therapeutics pipeline arena. Additionally, the issuance of patents helps in achieving different milestones in the form of grants and designations from regulatory bodies and institutes, including the U.S. Food and Drug Administration (USFDA), the European Medicines Agency (EMA), and the National Institutes of Health (NIH).
Pipeline Analysis
As of March 2019, the hyperhidrosis therapeutics pipeline comprised 10+ therapeutic candidates in different stages of development.
Epidemiology Analysis
The report provides epidemiology forecast of hyperhidrosis for seven major markets, such as the U.S., Japan and EU5 countries (the U.K., Germany, France, Italy, and Spain). It covers prevalent population and treated patient population for the period 2016–2028. According to the study published in Journal of American Dermatology, in 2017, the prevalence rate of hyperhidrosis was 2.8% in the U.S.
Competitive Landscape
Some of the key players involved in the development of hyperhidrosis therapeutics in the late- and mid-stage include Brickell Biotech Inc., Meditox Co. Ltd., Allergan plc, Dermira Inc., Atacama Therapeutics Inc., Kaken Pharmaceutical Co. Ltd., Revance Therapeutics Inc., HUGEL Inc., Prime Therapeutics LLC, and Roivant Sciences Ltd.
Report Insights
Some highlights of the report "Hyperhidrosis Therapeutics – Pipeline Analysis 2019, Clinical Trials and Results, Patents, Designations, Collaborations, and Other Developments" have been mentioned below:
Detailed pipeline analysis of therapeutic candidates that are being developed for the treatment of hyperhidrosis, and estimates and analyses of emerging therapies and their progress status in different phases of development
Comprehensive insights into pipeline products, with special focus on strategic developments of key players, information on drug licensing, designations, financing, and grants, technological advancements, patents, and upcoming conferences
Competitive analysis and extensive information on monotherapies, combination therapies, targets and mechanisms of action, and drug origin with relevance to hyperhidrosis
Epidemiology forecast of hyperhidrosis for seven major markets, including the U.S., Japan, and EU5 countries
Analysis of marketed products for the treatment of hyperhidrosis
Detailed regulatory framework for drug approval in the U.S., Europe, and Japan
Key winning strategies of the companies involved in the development of hyperhidrosis therapeutics, followed by Pharma Proff's views