Overview
COPD is a broad term used for progression of various diseases affecting the lungs such as, chronic bronchitis, some forms of bronchiectasis, emphysema and refractory (non-reversible) asthma. The most common cause of COPD is tobacco smoke however, there are several other factors that can cause or make COPD worse, including environmental exposures and genetic (inherited) risk. COPD develops over the years and the associated symptoms are wheezing, tightness in chest, increased breathlessness and frequent coughing.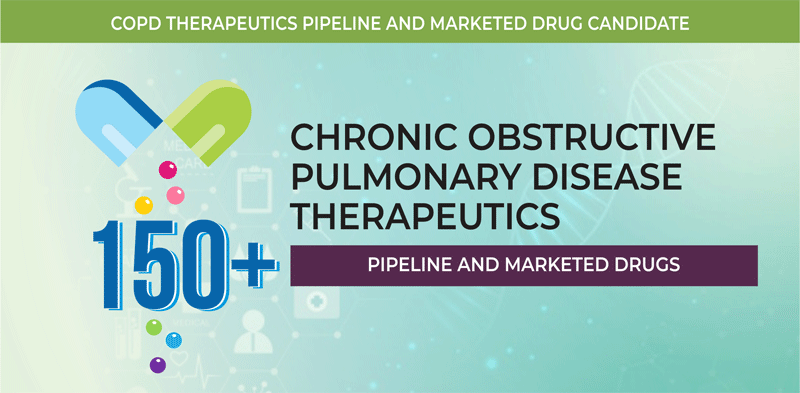 The primary diagnosis of COPD is done through spirometry, which is the most common form of pulmonary function test that includes measurement of volume and flow of inhaled and exhaled air in the lungs. Therefore, analyzing the breathing pattern may assess the complications involved with the lungs. There are several treatments available for the treatment of COPD which includes bronchodilators such as Salmeterol (GlaxoSmithKline plc.), inhaled corticosteroids, and supplemental oxygen.
A number of drug manufacturers are actively involved in the development of COPD therapeutics. For instance, AstraZeneca PLC is developing PT010, a single inhaler, fixed-dose triple combination therapy to treat patients with COPD. The top-line results from Phase III KRONOS trial of PT010 demonstrated significant improvement in six out of seven lung function primary endpoints compared with dual combination therapies.
Positive clinical trial results and adoption of collaboration strategies are enhancing COPD therapeutics pipeline. Moreover, the issuance of patents helps in achieving different milestones in the form of grants and designations from the regulatory bodies and institutes, including the U.S. Food and Drug Administration (USFDA), the European Medicines Agency (EMA), and the National Institutes of Health (NIH), among others.
Pipeline Analysis
As of March 2019, the COPD therapeutics pipeline comprises 150+ drugs in different stages of development.
Epidemiology Analysis
The report provides epidemiology forecast of COPD for seven major markets, which includes the U.S., Japan, and EU5 countries (the U.K., Germany, France, Italy, and Spain). It covers prevalent population and treated patient population for the period 2016–2028. According to Global Initiative for Chronic Obstructive Lung Disease 2017, COPD is currently the fourth leading cause of death in the world and is projected to be the third leading cause of death by 2020.
Competitive Landscape
Some of the key players involved in the development of COPD therapeutics are GlaxoSmithKline plc, AstraZeneca PLC, Theravance Biopharma Inc., Mylan N.V., and Chiesi Farmaceutici S.p.A.
Report Insights
Some highlights of the report "Chronic Obstructive Pulmonary Disease (COPD) Therapeutics - Pipeline Analysis 2019, Clinical Trials and Results, Patents, Designations, Collaborations, and Other Developments" have been mentioned below:
Detailed pipeline analysis of therapeutic candidates that are being developed for the treatment of COPD, and estimates and analyses of emerging therapies and their progress status in different phases of development
Comprehensive insights into pipeline products, with special focus on strategic developments of key players, information on drug licensing, designations, financing, and grants, technological advancements, patents, and upcoming conferences
Competitive analysis and extensive information on monotherapies, combination therapies, targets and mechanisms of action, and drug origin with relevance to COPD
Epidemiology forecast of COPD for seven major markets, including the U.S., Japan, and EU5 countries
Analysis of marketed products for the treatment of COPD
Detailed regulatory framework for drug approval in the U.S., Europe, and Japan
Key winning strategies of the companies involved in the development of COPD therapeutics, followed by Pharma Proff's views